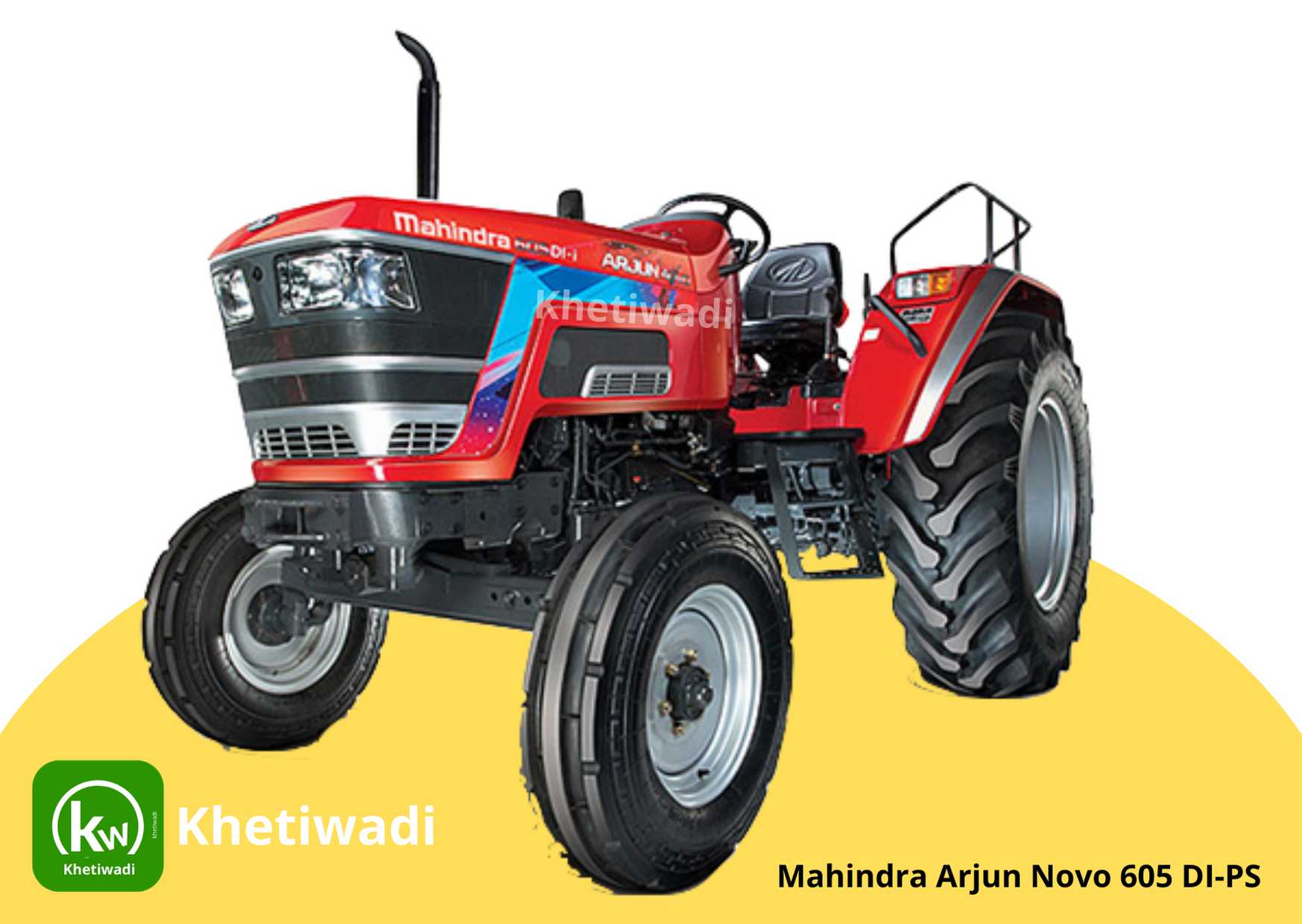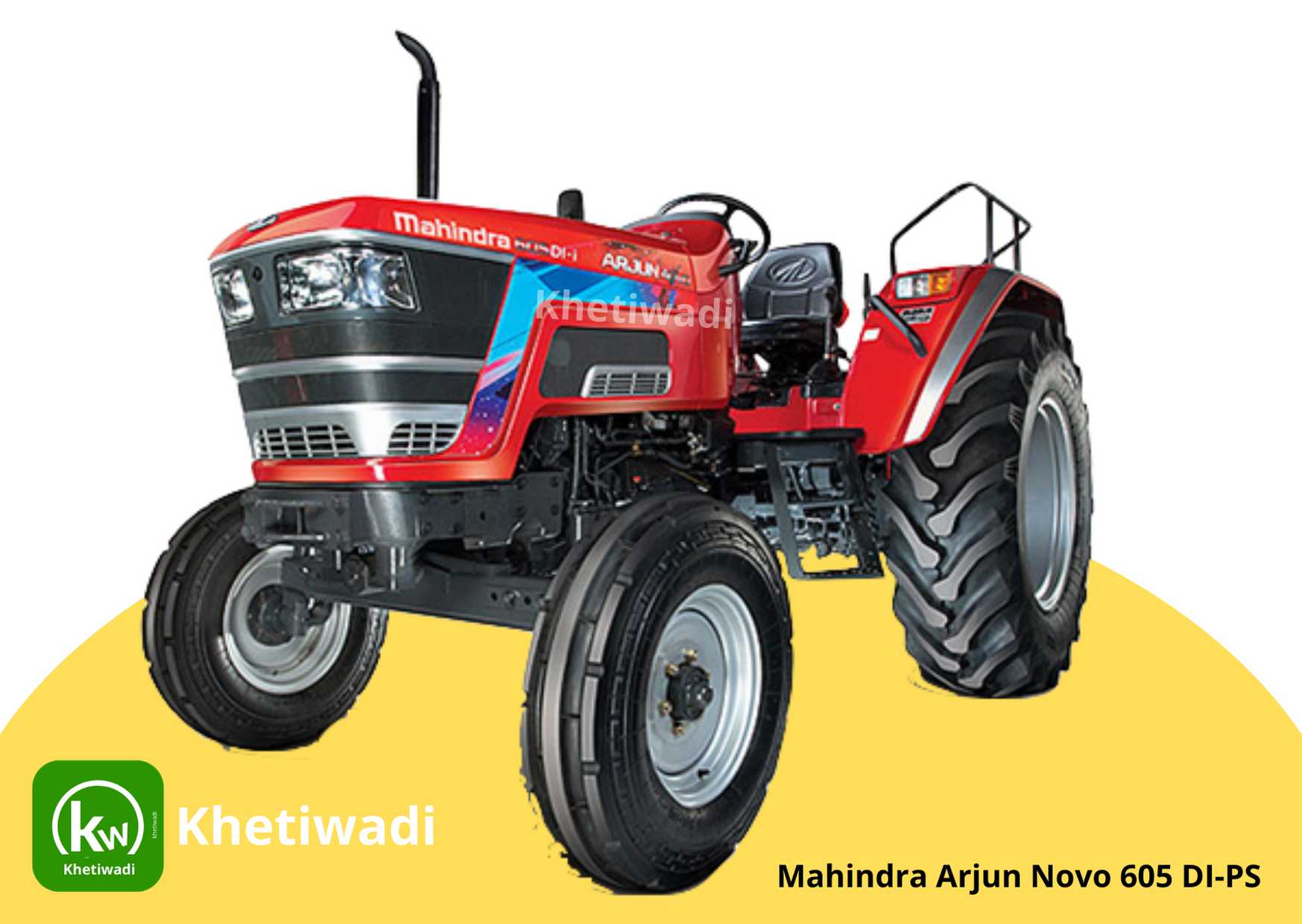 Mahindra Arjun Novo 605 DI-PS
Price : ₹ 6,74,000 - ₹ 7,37,000
Engin Power : 52 HP PTO Power : 45 HP Gears : Forward Gears : 15 Reverse Gears : 3 Type of Steering : Power Steering Type of Brakes : Oil Immersed Lifting Capacity : 2200 kg
ARJUN NOVO 605 DI-PS एक 38.8 kW (52 HP) तकनीकी रूप से उन्नत ट्रैक्टर है जो 40 खेती अनुप्रयोगों को संभाल सकता है जिसमें दूसरों के बीच पोखर, कटाई, कटाई और ढुलाई शामिल हैं। ARJUN NOVO 2200 किलोग्राम की लिफ्ट क्षमता, उन्नत सिंक्रोमेश 15 एफ + 3 आर ट्रांसमिशन और 400 घंटे की सबसे लंबी सेवा अंतराल जैसी सुविधाओं से भरी हुई है। अर्जुन नोवो सभी आवेदन और मिट्टी की स्थितियों में न्यूनतम आरपीएम ड्रॉप के साथ एकसमान और सुसंगत शक्ति प्रदान करता है। इसकी उच्च लिफ्ट क्षमता हाइड्रोलिक प्रणाली, इसे कई खेती और ढुलाई कार्यों के लिए उपयुक्त बनाती है। एक एर्गोनोमिक रूप से डिज़ाइन किया गया ऑपरेटर स्टेशन, कम रखरखाव और श्रेणी में ईंधन दक्षता में सर्वश्रेष्ठ श्रेणी के कुछ इस तकनीकी रूप से उन्नत ट्रैक्टर के प्रमुख आकर्षण हैं
The ARJUN NOVO 605 DI-PS is a 38.8 kW (52 HP) technologically advanced tractor that can handle 40 farming applications including puddling, harvesting, harvesting and hauling, among others. The ARJUN NOVO is loaded with features suc...
h as a lift capacity of 2200 kg, advanced synchromesh 15F + 3R transmission and the longest service interval of 400 hours. The Arjun Novo provides uniform and consistent power with a minimum RPM drop in all application and soil conditions. Its high lift capacity hydraulic system, making it suitable for many farming and haulage operations. An ergonomically designed operator station, low maintenance and some of the best-in-class fuel efficiency are some of the highlights of this technologically advanced tractor.
---
Mahindra Arjun Novo 605 DI-PS Specifications
ENGINE Specification
Horsepower (HP)
52 HP
Engine Capacity in cc
3531 cc
Engine RPM
2100 RPM
Cylinder
4
Air Filter
Dry type with clog indicator
Cooling Type
Forced circulation of coolant & water
TRANSMISSION Specifications
Clutch
Duty diaphragm type
Type of Transmission
Synchromesh
Forward Speed
1.63 – 32.04 kmph
Reverse speed
3.09 – 17.23 kmph
No of Forward Gears
15
No of Reverse Gears
3
BRAKES Specifications

More tractors by Mahindra Tractors

Type of Brake
Oil Immersed
Turning radius with brake
NA
STEERING Specifications
Type of Steering
Power Steering
Steering Adjustment
NO
PTO POWER Specifications
Type of PTO
6 Spline
PTO RPM
540, 540E, 540R
PTO POWER in HP
45 HP
FUEL TANK Specifications
FUEL TANK Capacity(Liters)
66 liters
DIMENSION AND WEIGHT
Weight
NA
Wheelbase
2145 mm
Overall Length
3630 mm
HYDRAULICS Specifications
Lifting capacity
2200 kg
TYRE SIZE Specifications
Front Tyres
7.5 X 16
Rear Tyres
14.9 X 28
Drive Type
Drive type
2WD
WARRANTY
Warranty
2000 Hours / 2 year
---
This website belongs to farming and farming machinary. Created and Managed by khetiwadi development team. Content owned and updated by khetiwadi.
Copyright © 2020 KHETIWADI. All Rights Reserved.
---