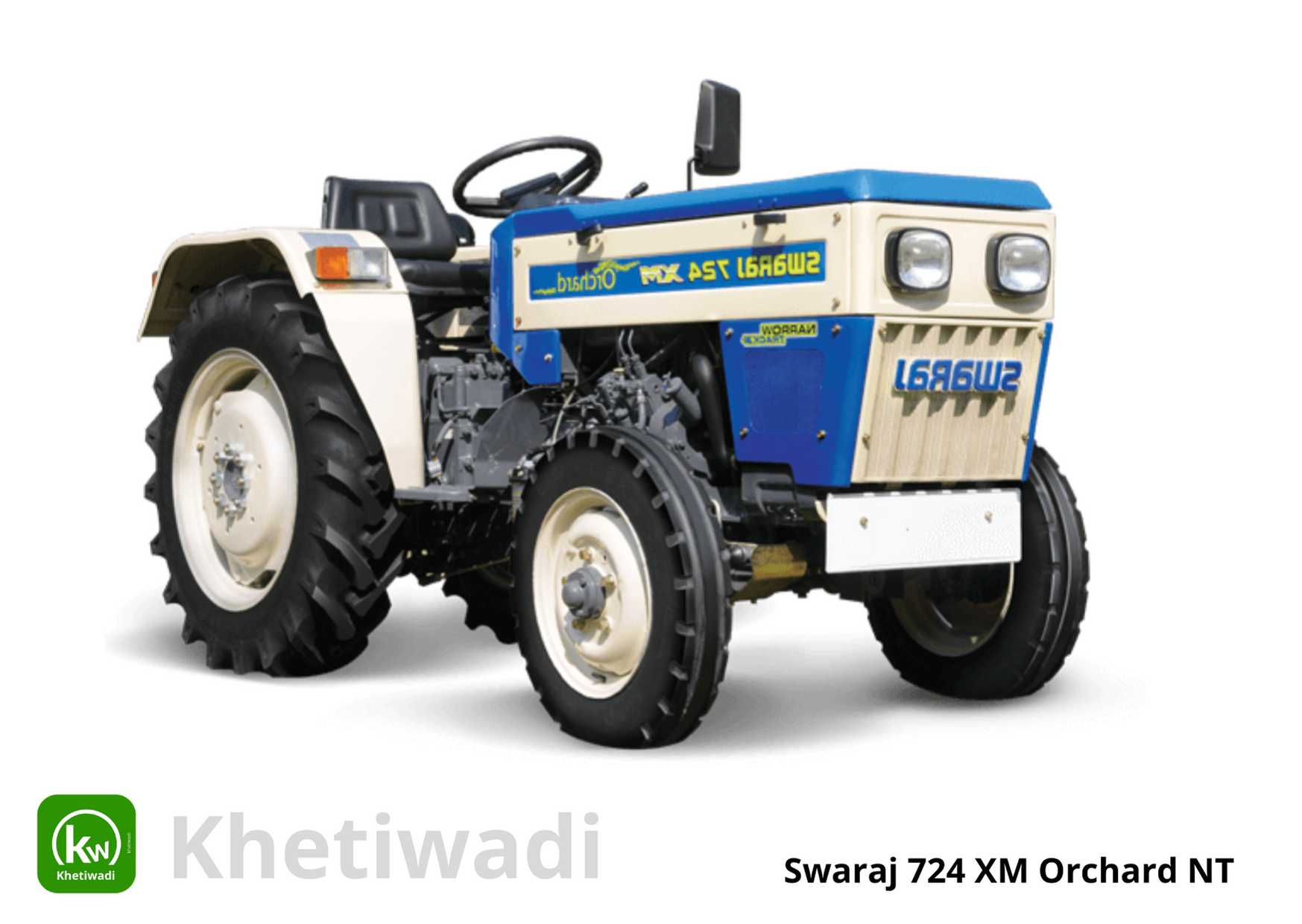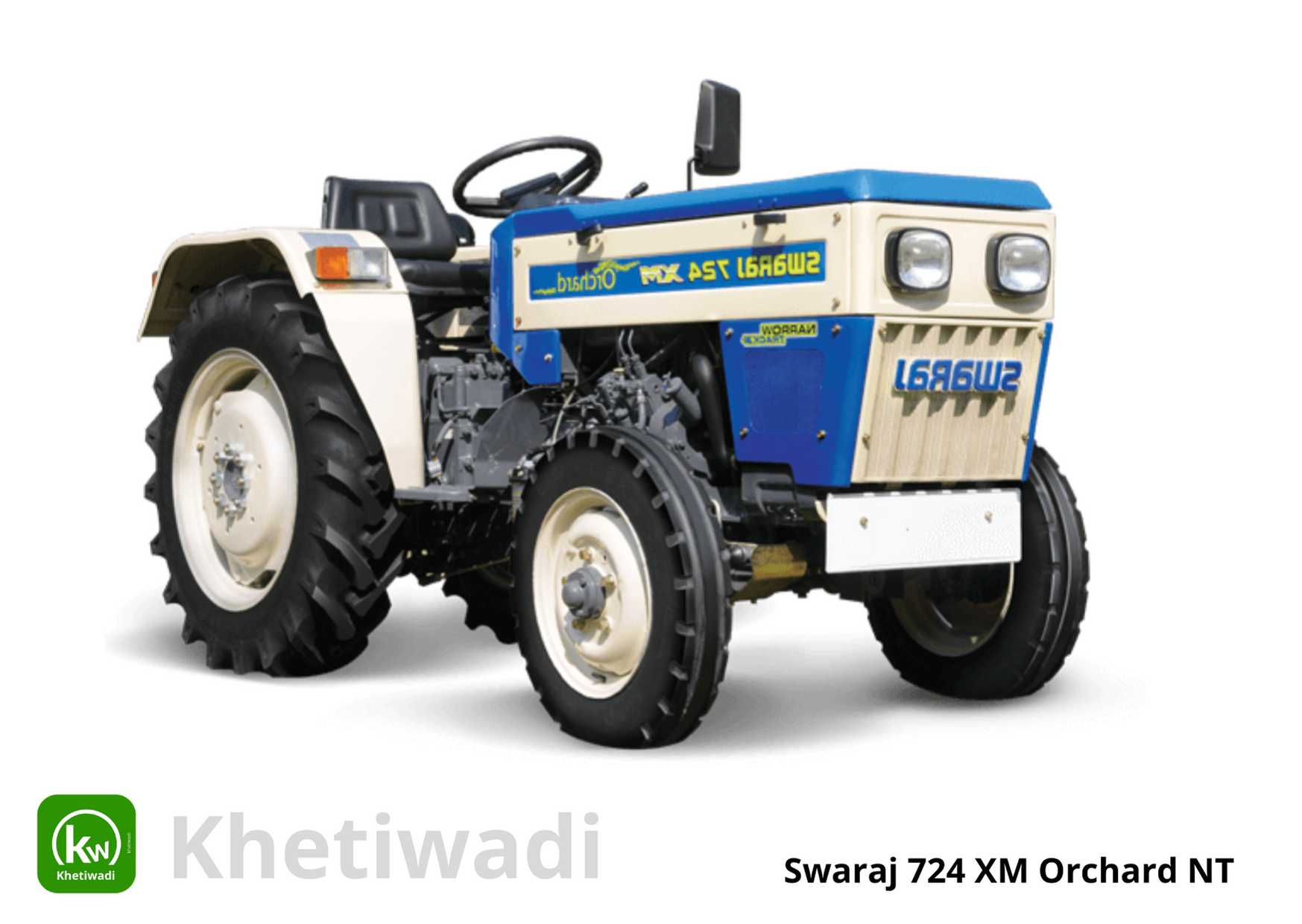 Swaraj 724 XM Orchard NT
Price : ₹ 3,90,000 - ₹ 4,10,000
Engin Power : 24 HP PTO Power : 21 HP Gears : Forward Gears : 6 Reverse Gears : 2 Type of Steering : Power Steering Type of Brakes : Oil Immersed Lifting Capacity : 1000 kg
The 724 XM Orchard NT is a tractor in the range of 18.64–3.37 kW (25–30hp). It is equipped with a powerful and fuel efficient two-cylinder water-cooled engine. Its outer-to-outer width is limited to 1092 mm, making it highly suitable for inter-farming and garden operations. The 724XM Orchard NT is equipped with a separate steering oil tank with operator convenience such as power steering, oil submerged brakes that provide comfort and safety to the operator, and so on. It is suitable for PTO powered devices such as sprayers, rotavators etc. which come with the 540. PTO R / min. The adjustable check chains provided in this help prevent crop loss.
The Swaraj 724 XM Orchard NT is a 2-cylinder, direct fuel injected, 24 hp engine with a rated engine rpm of 1800 rpm which is the lowest in the 25 hp range. It comes with dry type, dual element with dust unloader and water-cooling system for best performance. The Swaraj 724 XM Orchard NT has a large wheelbase and is very...
suitable for handling and field operations, this tractor gets the job done without overloading. It is strong and eye catching with versatile performance. The Swaraj 724 XM Orchard NT is perfect for interculture operations with live hydraulics such as automatic draft control and position control. For this reason it is known as the 'expert of planters'.
The Swaraj 724 XM Orchard NT 2-cylinder fuel-efficient water-cooled engine and oil-submerged brakes produce superior braking efficiency.
The garden is equipped with a down silencer for easy access to the fields, so that there is no boil with branches and narrow rear wheel tracks.
The Swaraj 724 XM Orchard NT is equipped with a deluxe driver seat for better suspension and a comfortable driver seat with less fatigue after long driving hours.
You can find the Swaraj 724 XM Orchard NT price in the description above. Click on the button below to know the detailed Swaraj 724 XM Orchard NT price. You can also get the price of all Swaraj tractors in your district by contacting us.
---
Swaraj 724 XM Orchard NT Specifications
ENGINE Specification
Horsepower (HP)
24 HP
Engine Capacity in cc
1824 cc
Engine RPM
1800 RPM
Cylinder
2
Air Filter
Dry type, Dual element with dust unloader
Cooling Type
Water Cooled with No loss tank
TRANSMISSION Specifications
Clutch
Single Friction Plate
Type of Transmission
Constant Mesh
Forward Speed
2.2 - 23.3 kmph
Reverse speed
2.2 - 8.7 kmph
No of Forward Gears
6
No of Reverse Gears
2
BRAKES Specifications

More tractors by Swaraj Tractors

Type of Brake
Oil Immersed
Turning radius with brake
NA
STEERING Specifications
Type of Steering
Power Steering
Steering Adjustment
NO
PTO POWER Specifications
Type of PTO
6 Spline
PTO RPM
540
PTO POWER in HP
21 HP
FUEL TANK Specifications
FUEL TANK Capacity(Liters)
35 liters
DIMENSION AND WEIGHT
Weight
1495 kg
Wheelbase
1550 mm
Overall Length
2900 mm
HYDRAULICS Specifications
Lifting capacity
1000 kg
TYRE SIZE Specifications
Front Tyres
5 X 15
Rear Tyres
9.5 x 24
Drive Type
Drive type
2WD
---
This website belongs to farming and farming machinary. Created and Managed by khetiwadi development team. Content owned and updated by khetiwadi.
Copyright © 2020 KHETIWADI. All Rights Reserved.
---