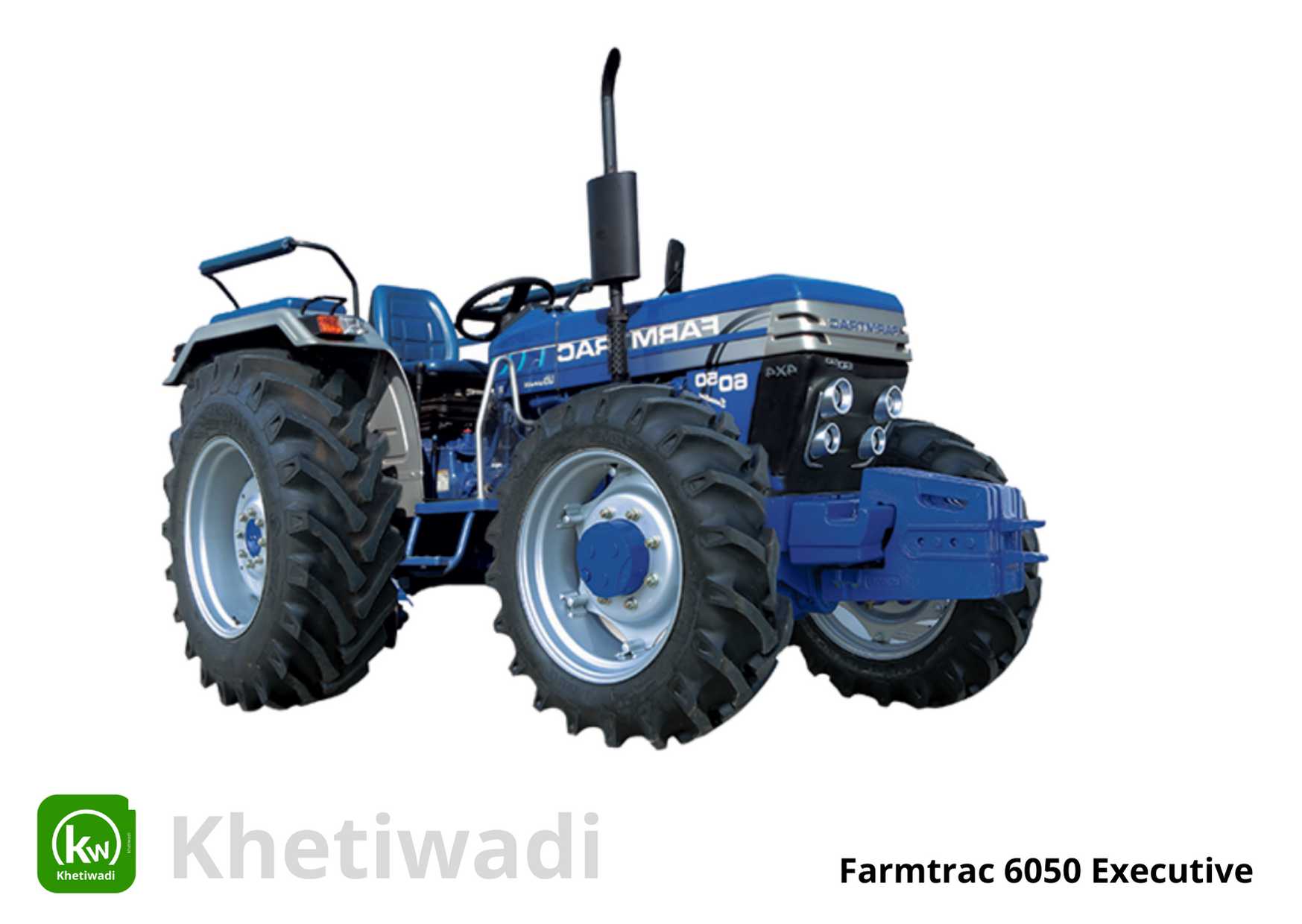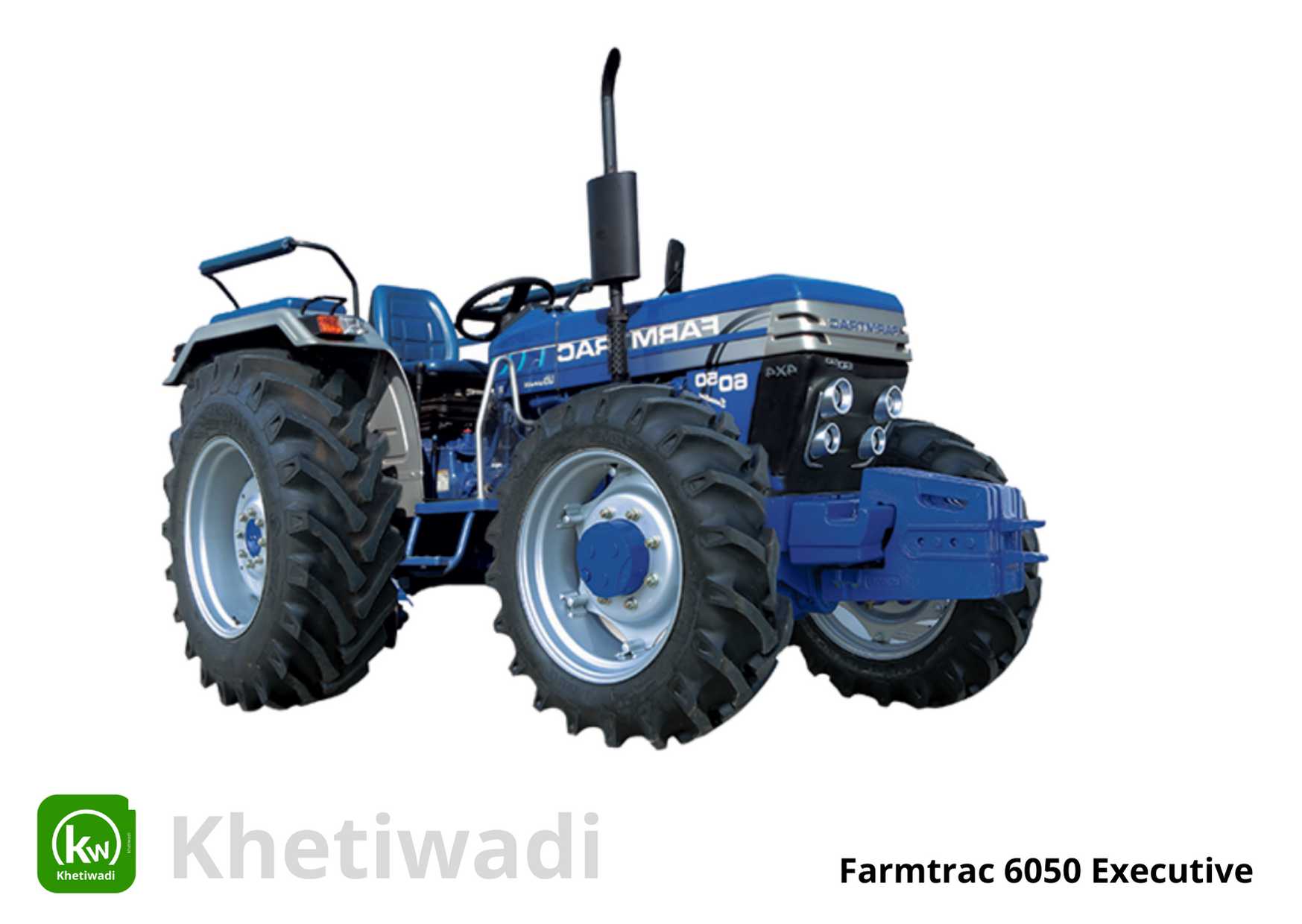 Farmtrac 6050 Executive
Price : ₹ 7,55,000 - ₹ 8,20,000
Engin Power : 50 HP PTO Power : 43 HP Gears : Forward Gears : 16 Reverse Gears : 4 Type of Steering : Power Steering Type of Brakes : Oil Immersed Lifting Capacity : 1800 kg
Overview
The Farmtrac 6050 Executive 4WD Tractor equipped with advanced features such as oil-immersed brakes, large radiators, powerful 3 cylinder engine producing power of 50 hp at 1850 rated RPM. The Farmtrac 6050 Executive 4WD improves its performance, never before experienced features. Versatility and high reliability in any operation idealizing the Farmtrac 6050 Executive 4WD tractor across India. Unique features include engine with torque backup of 15 to 20%. The Farmtrac 6050 Executive 4WD is available in 4WD. The Farmtrac 6050 Executive 4WD is suitable for more than 30 applications, prompting demanding applications of TMCH, loaders, and dozers, etc. The Farmtrac 6050 Executive 4WD is also available with a full constant mesh gearbox, which makes the Farmtrac 6050 Executive 4WD very easy to carry out agricultural operations. And commercial applications. The power steering, deluxe seat, tool box with bottle holder, and the Farm Class 6050 Executive ...
4WD feature a class display unit for operator comfort. The Farmtrac 6050 Executive 4WD gives 540 PTO speeds at a power output of 43 PTO HP. Which is useful for applications such as rotavators and many more. The Farmtrac 6050 executive is equipped with a 4WD 60 liter diesel tank. The Farmtrac 6050 Executive 4WD tractor has a lifting capacity of 1800 kg. The Farmtrac 6050 Executive 4WD weighs 2340 kg and has a wheel base of 2120 mm. The Farmtrac 6050 Executive 4WD 8.3 X 24 / 9.5 X 24 front tires and 16.9 X 28 rear tires are fitted.
Engin
Advance powered direct injection engine gives optimum combustion to produce maximum power with minimum fuel consumption.
Premiumness
Designed with world-class technology, style and comfort that makes a tractor more than a tractor- A Pride of Farmers.
Hydraulics
Heavy duty automatic depth and draft control hydraulic lift makes tractors to perform better under all conditions
---
Farmtrac 6050 Executive Specifications
ENGINE Specification
Horsepower (HP)
50 HP
Engine Capacity in cc
NA
Engine RPM
1850 RPM
Cylinder
3
Air Filter
Dry type
Cooling Type
TRANSMISSION Specifications
Clutch
Independent / Dual
Type of Transmission
Constant mesh
Forward Speed
2.7 - 30.6 kmph
Reverse speed
3 - 10.9 kmph
No of Forward Gears
16
No of Reverse Gears
4
BRAKES Specifications

More tractors by Farmtrac Tractors

Type of Brake
Oil Immersed
Turning radius with brake
3500 mm
STEERING Specifications
Type of Steering
Power Steering
Steering Adjustment
NO
PTO POWER Specifications
Type of PTO
6 Spline
PTO RPM
540
PTO POWER in HP
43 HP
FUEL TANK Specifications
FUEL TANK Capacity(Liters)
60 liters
DIMENSION AND WEIGHT
Weight
2180 kg
Wheelbase
2120 mm
Overall Length
3485 mm
HYDRAULICS Specifications
Lifting capacity
1800 kg
TYRE SIZE Specifications
Front Tyres
7.5 X 16
Rear Tyres
14.9 X 28
Drive Type
Drive type
2WD / 4WD
---
This website belongs to farming and farming machinary. Created and Managed by khetiwadi development team. Content owned and updated by khetiwadi.
Copyright © 2020 KHETIWADI. All Rights Reserved.
---