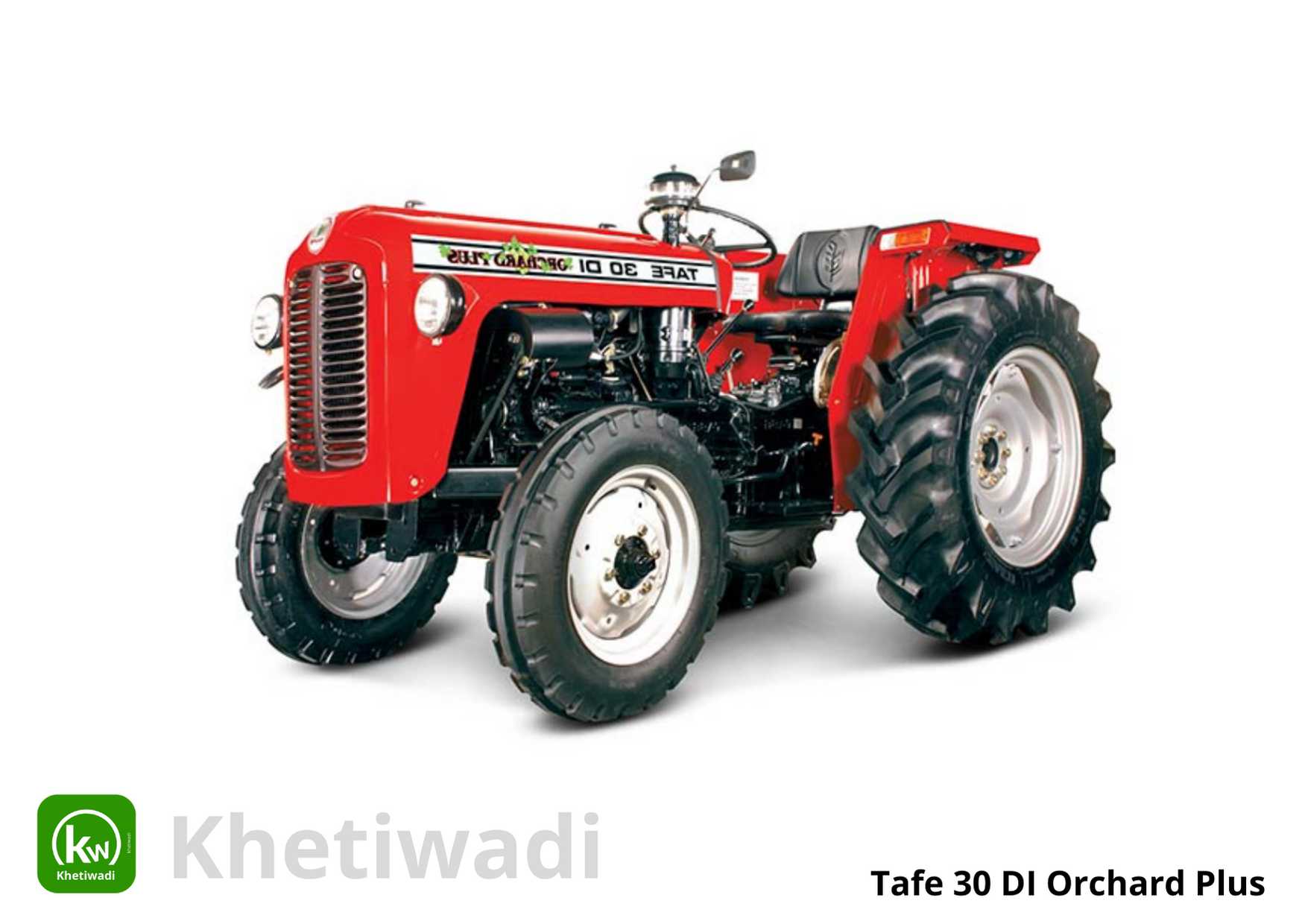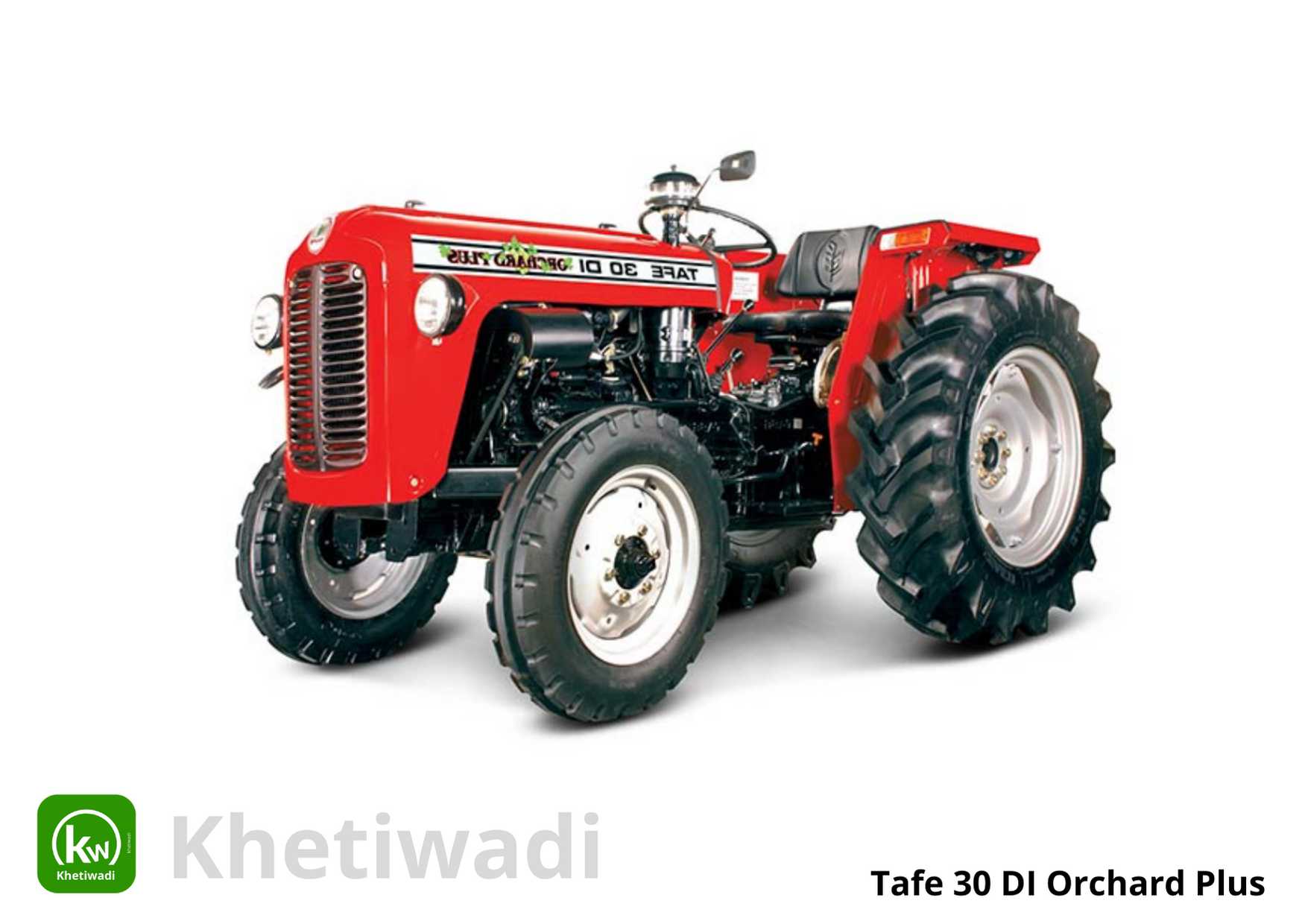 Tafe 30 DI Orchard Plus
Price : ₹ 4,24,000 - ₹ 4,59,000
Engin Power : 30 HP PTO Power : 26 HP Gears : Forward Gears : 6 Reverse Gears : 2 Type of Steering : Manual Steering Type of Brakes : Internally expandable Mechanical type brakes Lifting Capacity : 1100 kg
The Tafe 30 DI Orchard Plus is equipped with a 2-cylinder powerful engine that produces 30 HP. Its key features are the sliding mesh transmission, internally expandable mechanical type brakes, and mechanical steering. The Tafe 30 DI Orchard Plus is easy to operate and can be used in over 30 applications, including transportation. It has a strong robust design to withstand the rigors of farming and commercial activities. The Taf 30 Di Orchard Plus is versatile and durable and is commonly used in crops such as wheat, rice, sugarcane, and others. It has a lifting capacity of 1100 kg which is suitable for various types of equipment such as cultivators, rotavators, plows, planters, and others.
टैफे 30 डीआई ऑर्चर्ड प्लस 2-सिलेंडर शक्तिशाली इंजन से लैस है जो 30 एचपी का उत्पादन करता है। इसकी प्रमुख विशेषताएं स्लाइडिंग मेश ट्रांसमिशन, आंतरिक रूप से विस्तार योग्य यांत्रिक प्रकार ब्रेक और मैकेनिकल स्टीयरिंग हैं। Tafe 30 DI Orchard Plus को चलाना आसान है और इसका उपयोग परिवहन सहित 30 से...
अधिक अनुप्रयोगों में किया जा सकता है। इसमें खेती और वाणिज्यिक गतिविधियों की कठोरता का सामना करने के लिए एक मजबूत मजबूत डिजाइन है। टैफ 30 डी ऑर्चर्ड प्लस बहुमुखी और टिकाऊ है और आमतौर पर गेहूं, चावल, गन्ना, और अन्य जैसे फसलों में उपयोग किया जाता है। इसकी भारोत्तोलन क्षमता 1100 किलोग्राम है जो विभिन्न प्रकार के उपकरणों जैसे कि कृषक, रोटावेटर, हल, प्लांटर्स और अन्य के लिए उपयुक्त है।
---
Tafe 30 DI Orchard Plus Specifications
ENGINE Specification
Horsepower (HP)
30 HP
Engine Capacity in cc
1670 cc
Engine RPM
2000 RPM
Cylinder
2
Air Filter
3 Stage oil bath type with Pre - Cleaner
Cooling Type
Water Cooled
TRANSMISSION Specifications
Clutch
Single / Dual Clutch
Type of Transmission
Sliding Mesh Transmission
Forward Speed
20 km/h
Reverse speed
NA
No of Forward Gears
6
No of Reverse Gears
2
BRAKES Specifications

More tractors by Tafe Tractors

Type of Brake
Internally expandable Mechanical type brakes
Turning radius with brake
2300 mm
STEERING Specifications
Type of Steering
Manual Steering
Steering Adjustment
NO
PTO POWER Specifications
Type of PTO
6 Spline
PTO RPM
540, 1000
PTO POWER in HP
26 HP
FUEL TANK Specifications
FUEL TANK Capacity(Liters)
25 liters
DIMENSION AND WEIGHT
Weight
1,400 kg
Wheelbase
1,600 mm
Overall Length
2,945 mm
HYDRAULICS Specifications
Lifting capacity
1100 kg
TYRE SIZE Specifications
Front Tyres
5.5 X 16
Rear Tyres
12.4 X 24
Drive Type
Drive type
2WD
---
This website belongs to farming and farming machinary. Created and Managed by khetiwadi development team. Content owned and updated by khetiwadi.
Copyright © 2020 KHETIWADI. All Rights Reserved.
---