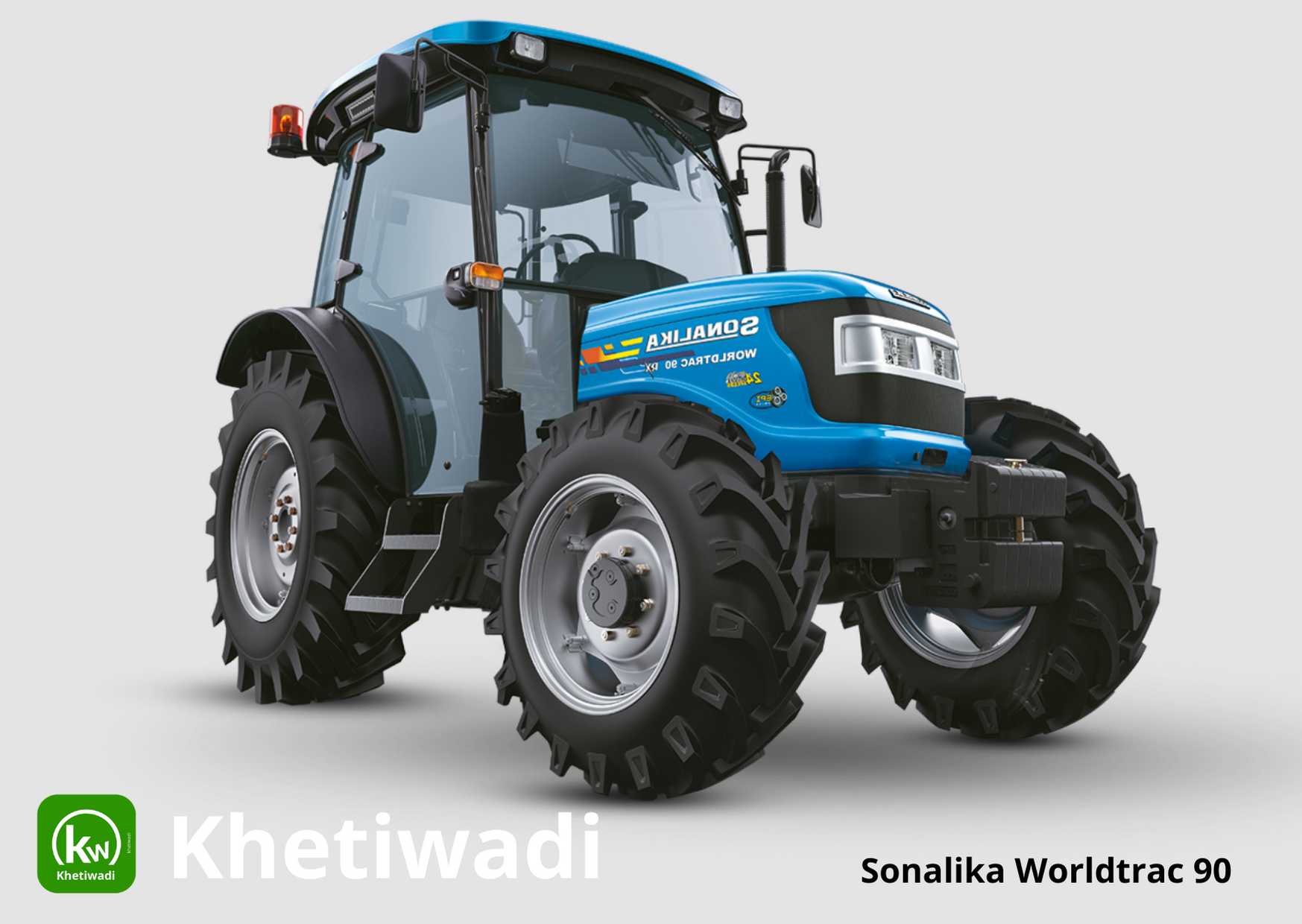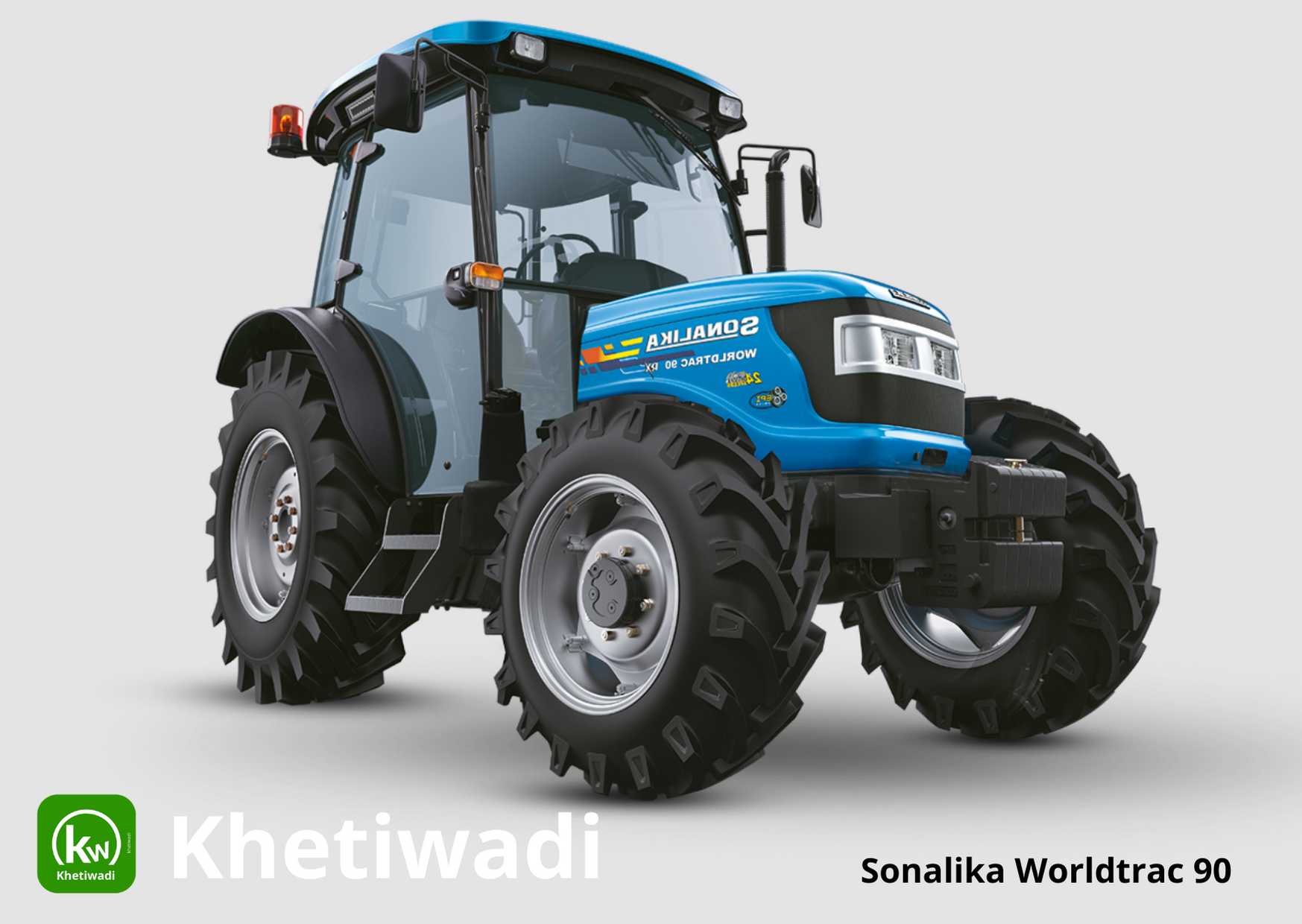 Sonalika Worldtrac 90
Price : ₹ 15,85,000 - ₹ 16,90,000
Engin Power : 90 HP PTO Power : 77 HP Gears : Forward Gears : 12 Reverse Gears : 12 Type of Steering : Power Steering Type of Brakes : Oil Immersed Lifting Capacity : 2500 kg
Sonelika WorldTrac 90 is a 90 hp class trailer with 4 cylinders, rated engine of 4087 million rpm 2000. The dry-type air filter Sonalika WorldTrac 90 with pre-clerk and clog indicator gives the trust free air so that the connector gives maximum output and the Sonalika WorldTrac 90 equipped with an intercooler cooling system also did not work for many hours. The Sonelika WorldTrac 90 is equipped with a Synchromesh gearbox with 12 forward and 12 reverse gears. With the help of these gears, the Sonelika WorldTrac 90 can achieve speeds of 1.43 to 29.41 kmph and reverse speeds of 1.29 to 26.54 kmph. The Sonelika Worldtrack 90 gets oil-immersed brakes that quickly stop a move. The Sonelika WorldTrac 90 is equipped with power steering that makes the trailer handle on the roads or in any agricultural / commercial activity. The Sonelika WorldTrac comes with a speed of 90 PTO which is 540, 540 economy with advanced chipx automatic control and control valve. The Sonelika WorldTrac 90 has a 78-...
liter tank capacity. The Sonelika WorldTrac 90 has a 9.5 X 16 / 12.4 X 24 processor and 18.4 X 30 rear tires. The Sonelika Worldtrack 90 is available in 4WD drive type.
---
Sonalika Worldtrac 90 Specifications
ENGINE Specification
Horsepower (HP)
90 HP
Engine Capacity in cc
4087 cc
Engine RPM
2000 RPM
Cylinder
4
Air Filter
Dry type with pre cleaner and clog indicator
Cooling Type
Intercooler
TRANSMISSION Specifications
Clutch
Double Clutch
Type of Transmission
Synchomesh
Forward Speed
1.43 - 29.41 kmph
Reverse speed
1.29 - 26.54 kmph
No of Forward Gears
12
No of Reverse Gears
12
BRAKES Specifications

More tractors by Sonalika Tractor

Type of Brake
Oil Immersed
Turning radius with brake
NA
STEERING Specifications
Type of Steering
Power Steering
Steering Adjustment
NO
PTO POWER Specifications
Type of PTO
6 Spline
PTO RPM
540, 540E
PTO POWER in HP
77 HP
FUEL TANK Specifications
FUEL TANK Capacity(Liters)
78 liters
DIMENSION AND WEIGHT
Weight
3350 kg
Wheelbase
2350 mm
Overall Length
3980 mm
HYDRAULICS Specifications
Lifting capacity
2500 kg
TYRE SIZE Specifications
Front Tyres
9.5 X 16 / 12.4 X 24
Rear Tyres
18.4 X 30
Drive Type
Drive type
4WD
WARRANTY
Warranty
2000 Hours / 2 year
---
This website belongs to farming and farming machinary. Created and Managed by khetiwadi development team. Content owned and updated by khetiwadi.
Copyright © 2020 KHETIWADI. All Rights Reserved.
---