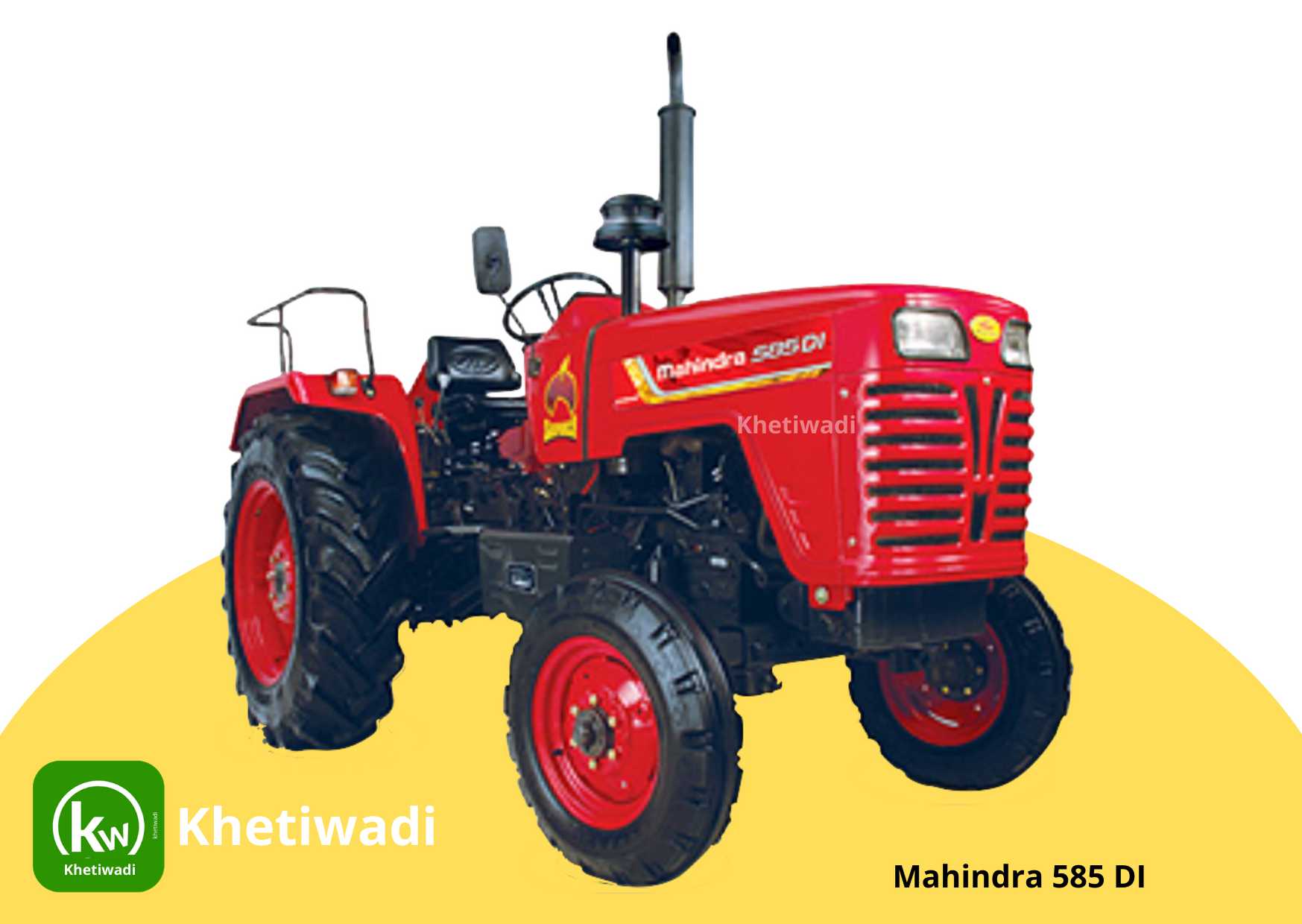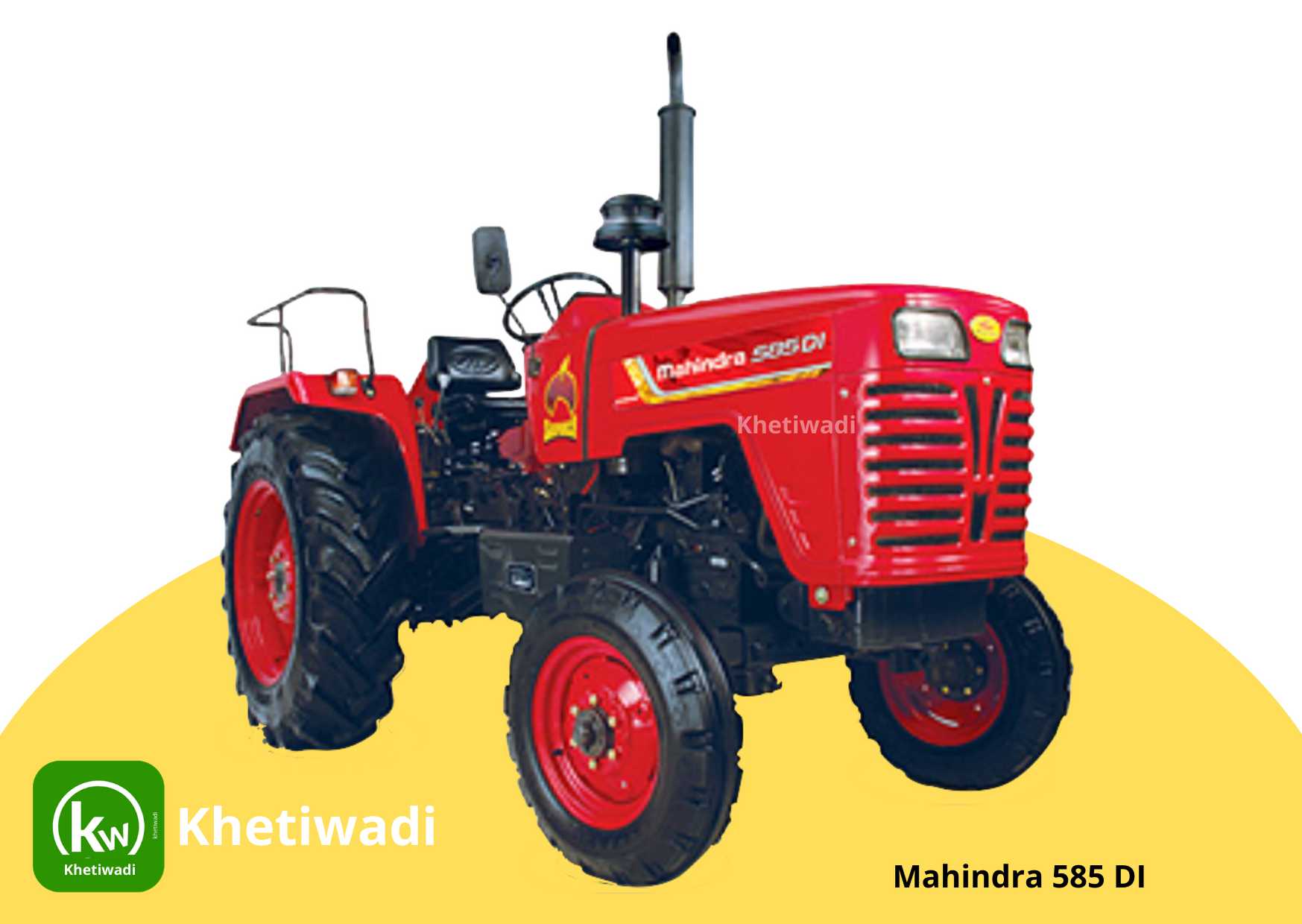 Mahindra 585 DI
Price : ₹ 6,09,000 - ₹ 6,56,000
Engin Power : 50 HP PTO Power : 43 HP Gears : Forward Gears : 8 Reverse Gears : 2 Type of Steering : Mechanical / Power Steering Type of Brakes : Dry / Oil Immersed Lifting Capacity : 1640 kg
Mahindra 585 DI Power+ is a 37.3 kW (50 HP) tractor that is packed with immense power to handle the toughest tasks with great ease. It is specially designed to handle all types of agricultural and haulage applications. It has multiple gear speeds, which are suitable for handling multiple farm implements like rotavator, potato planter, potato digger, reaper and leveler. It is available in both Sarpanch and Bhumiputra form, which provides flexibility to choose as per one's requirement.
महिंद्रा 585 डीआई पावर+ 37.3 kW (50 HP) ट्रैक्टर है जो अत्यधिक शक्ति के साथ सबसे कठिन कार्यों को काफी आसानी से संभालने के लिए पैक किया जाता है। इसे विशेष रूप से सभी प्रकार के कृषि और ढुलाई अनुप्रयोगों को संभालने के लिए डिज़ाइन किया गया है। इसमें कई गियर स्पीड हैं, जो रोटावेटर, पोटैटो प्लांटर, पोटैटो डिगर, रीपर और लेवलर जैसे कई कृषि उपकरणों को संभालने के लिए उपयुक्त हैं। यह सरपंच और भूमिपुत्र दोनों रूपों में उपलब्ध है, जो किसी की आवश्यकता के अनुसार चुनने के लिए लचीलापन प्रदान करता है।
...
---
Mahindra 585 DI Specifications
ENGINE Specification
Horsepower (HP)
50 HP
Engine Capacity in cc
3054 cc
Engine RPM
2100 RPM
Cylinder
4
Air Filter
3 stage oil bath type
Cooling Type
Water Cooled
TRANSMISSION Specifications
Clutch
Single / Dual
Type of Transmission
Partial constant mesh
Forward Speed
2.9 to 30.9 kmph
Reverse speed
4.05 to 11.9 kmph
No of Forward Gears
8
No of Reverse Gears
2
BRAKES Specifications

More tractors by Mahindra Tractors

Type of Brake
Dry / Oil Immersed
Turning radius with brake
NA
STEERING Specifications
Type of Steering
Mechanical / Power Steering
Steering Adjustment
NO
PTO POWER Specifications
Type of PTO
6 Spline
PTO RPM
540
PTO POWER in HP
43 HP
FUEL TANK Specifications
FUEL TANK Capacity(Liters)
49 liters
DIMENSION AND WEIGHT
Weight
2100 kg
Wheelbase
1975 mm
Overall Length
3520 mm
HYDRAULICS Specifications
Lifting capacity
1640 kg
TYRE SIZE Specifications
Front Tyres
6 X 16
Rear Tyres
14.9 X 28
Drive Type
Drive type
2WD
WARRANTY
Warranty
2000 Hours / 2 year
---
This website belongs to farming and farming machinary. Created and Managed by khetiwadi development team. Content owned and updated by khetiwadi.
Copyright © 2020 KHETIWADI. All Rights Reserved.
---