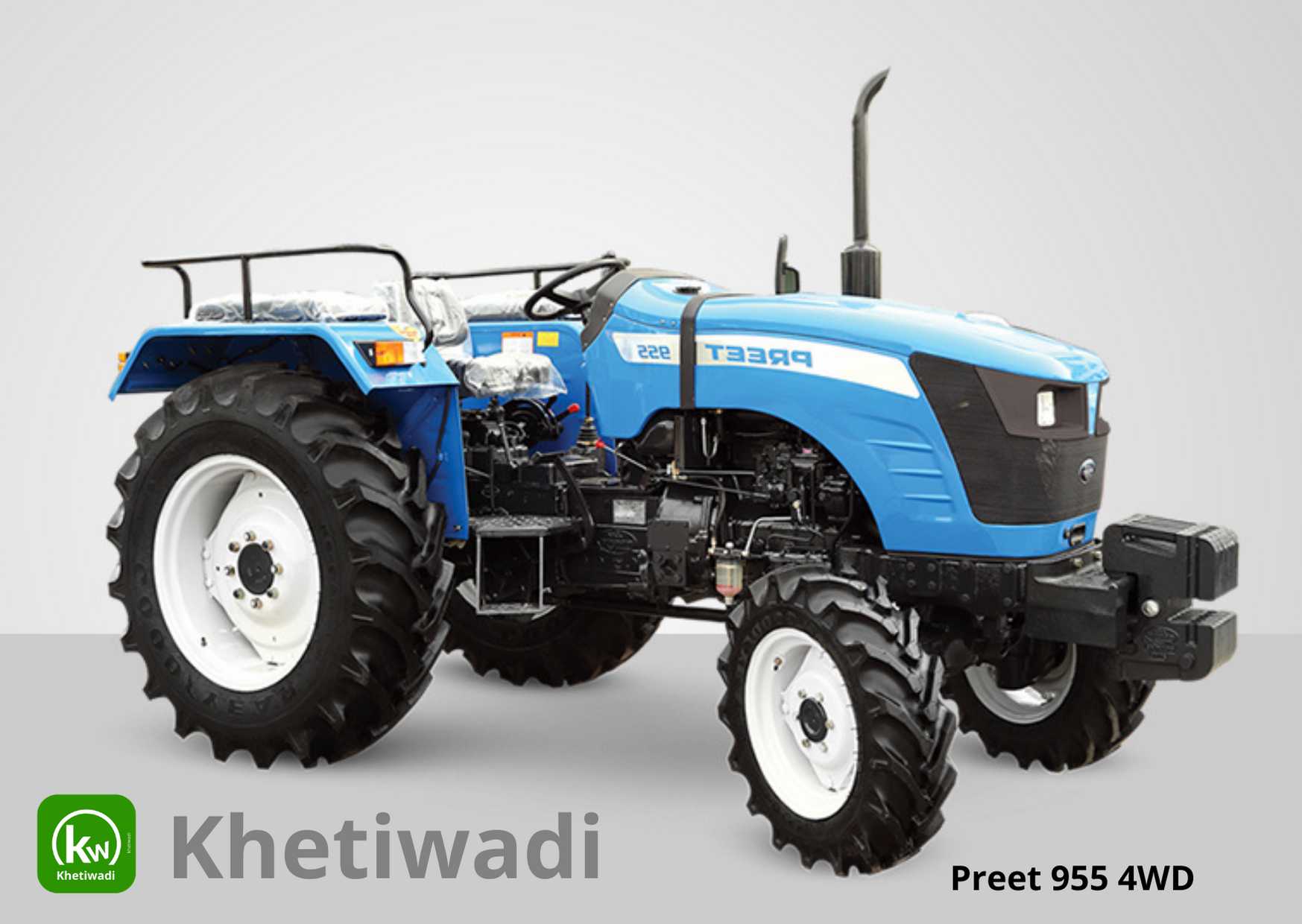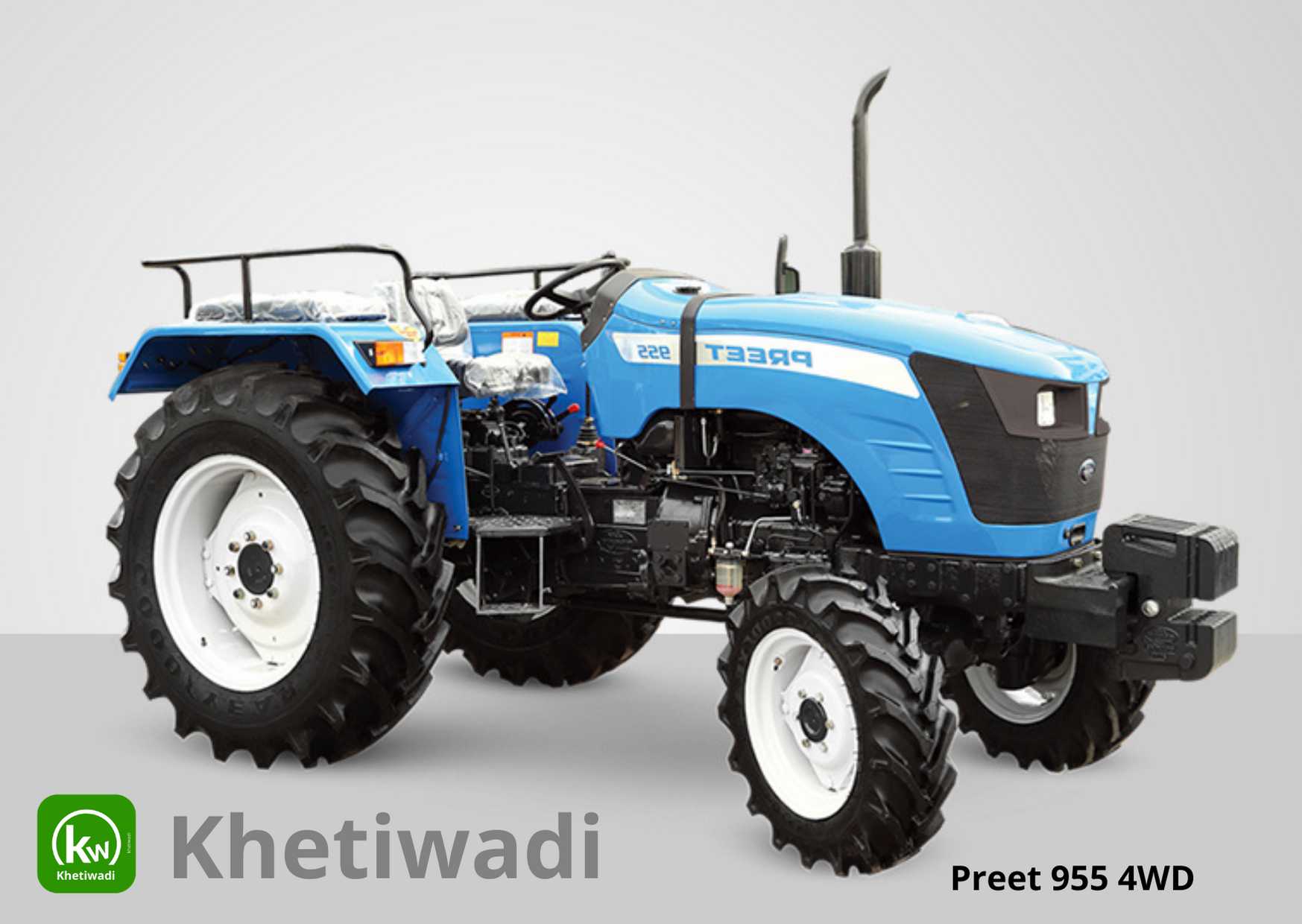 Preet 955 4WD
Price : ₹ 5,20,000 - ₹ 5,50,000
Engin Power : 50 HP PTO Power : 43 HP Gears : Forward Gears : 8 Reverse Gears : 2 Type of Steering : Power Steering Type of Brakes : Multi Disc Oil Immersed Lifting Capacity : 1800 kg
PREET 955 Overview
The PREET 950 - 4WD tractor is intended to fulfill powerful general-purpose operations in farming, main and prelip plowing, sowing, harvesting using high-performance combined and wide-cut aggregates and transport operations. It is the base module for modifying tractors used in communal services and forestry. As an exception that confirms the more elaborate capabilities of conventional assembly tractors, the PREET 955 - 4WD tractor can be used on all types of work, including inter-row farming of tiled crops.
Up-to-date construction and advanced solutions embodied in this tractor ensure its year-round operation and effective work, especially when working with modern aggregates. The PREET 955 - 4WD tractor is an up-to-date general concept of tractors with low-toxicity engines. Work-oriented and thorough conversion of the experimental-design project for global operation and maximum efficiency.
TECHNICAL SPECIFICATIONS
PREET ...
Group is constantly involved in Reasearch & Development to improve products. Accordingly, the PREET Group reserves the right, at any time, to modify the technology and product specifications involved.
All technical data, specifications and other information contained herein are considered proprietary intellectual property of the PREET Group. No reproduction, copying, or use can be done without the written consent of PREETGroup.
The PREET Group will be pleased to provide specific technical data or specifications in relation to any particular PREET agricultural tractor model.
---
Preet 955 4WD Specifications
ENGINE Specification
Horsepower (HP)
50 HP
Engine Capacity in cc
3066 cc
Engine RPM
2200 RPM
Cylinder
3
Air Filter
Dry type
Cooling Type
Water Cooled
TRANSMISSION Specifications
Clutch
Dual
Type of Transmission
Combination Constant & Sliding mesh
Forward Speed
2.67 – 33.89 kmph
Reverse speed
3.74 – 12.27 kmph
No of Forward Gears
8
No of Reverse Gears
2
BRAKES Specifications

More tractors by Preet Tractors

Type of Brake
Multi Disc Oil Immersed
Turning radius with brake
NA
STEERING Specifications
Type of Steering
Power Steering
Steering Adjustment
NO
PTO POWER Specifications
Type of PTO
6 Spline
PTO RPM
540, Reverse
PTO POWER in HP
43 HP
FUEL TANK Specifications
FUEL TANK Capacity(Liters)
67 liters
DIMENSION AND WEIGHT
Weight
2330 kg
Wheelbase
2100 mm
Overall Length
3320 mm
HYDRAULICS Specifications
Lifting capacity
1800 kg
TYRE SIZE Specifications
Front Tyres
8 X 18
Rear Tyres
14.9 X 28
Drive Type
Drive type
4WD
---
This website belongs to farming and farming machinary. Created and Managed by khetiwadi development team. Content owned and updated by khetiwadi.
Copyright © 2020 KHETIWADI. All Rights Reserved.
---