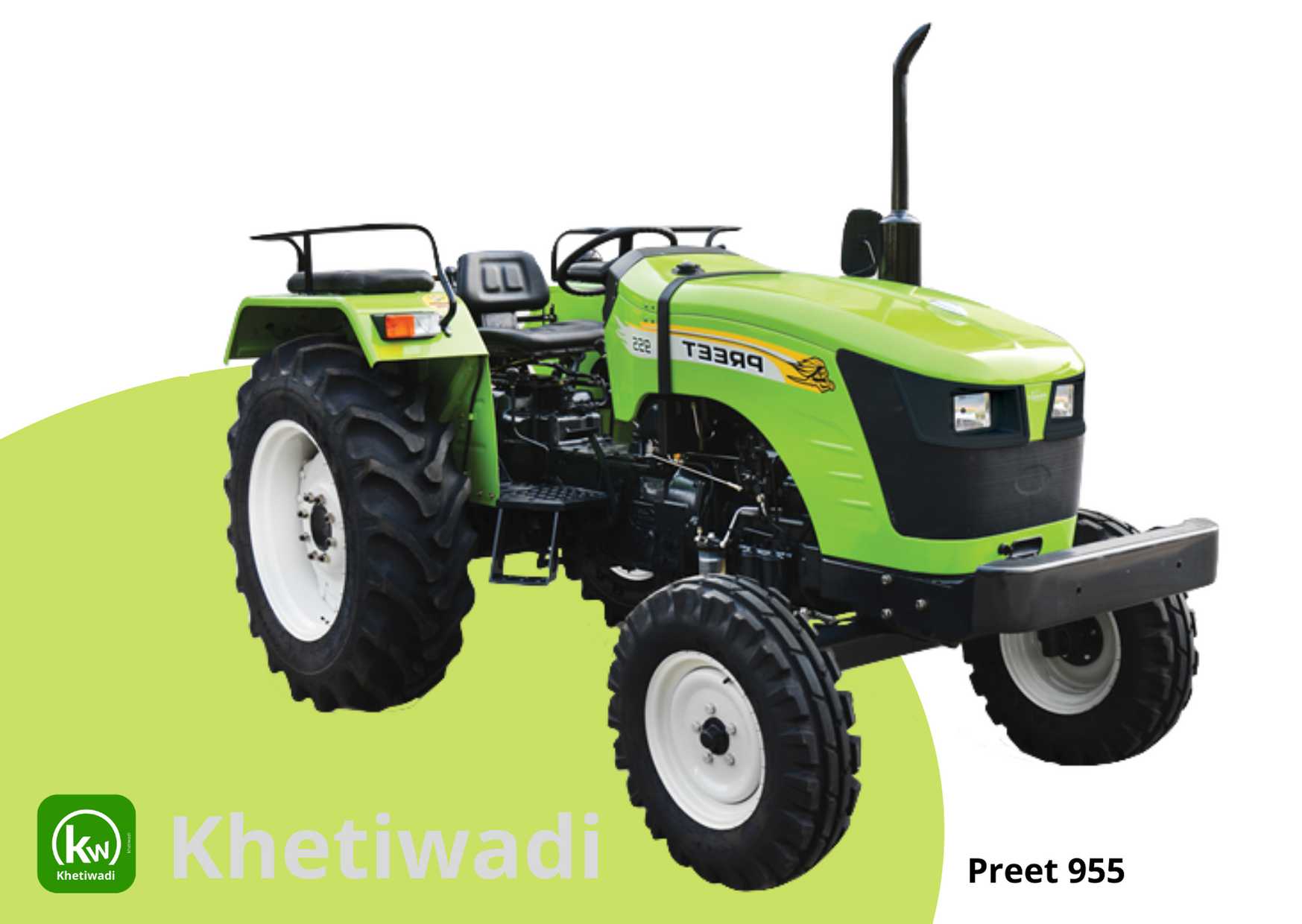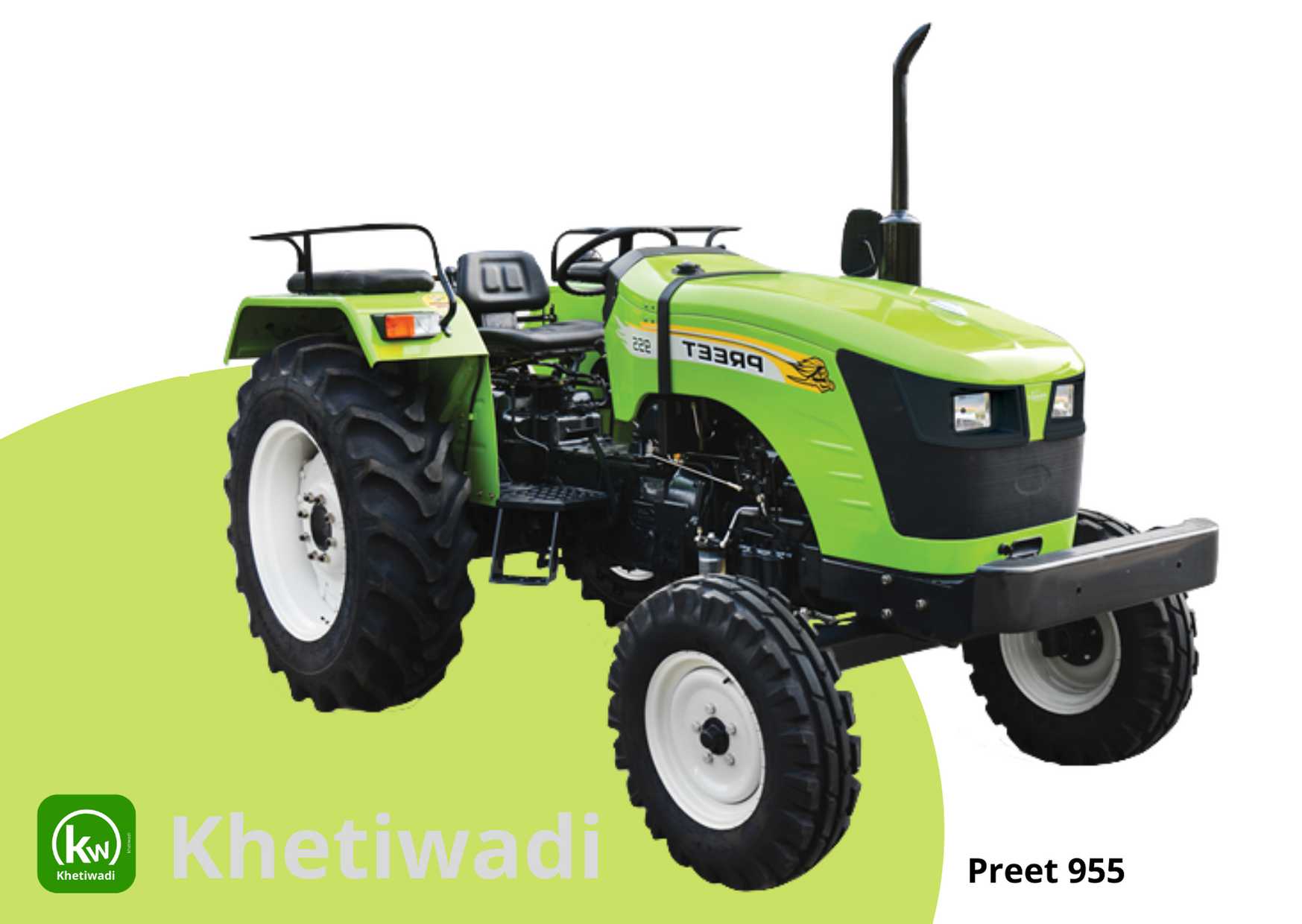 Preet 955
Price : ₹ 4,85,000 - ₹ 5,20,000
Engin Power : 50 HP PTO Power : 43 HP Gears : Forward Gears : 8 Reverse Gears : 2 Type of Steering : Power Steering Type of Brakes : Dry / Oil Immersed Lifting Capacity : 1800 kg
The PREET 955 - 2WD Tractor is designed to perform powerful general purpose tasks in agriculture, front and main plow, seeding, harvesting, using high performance wide cut and combined aggregates and transport functions. It is the base module for modifying tractors used in community and forestry services. As an exception that confirms the broader capabilities of conventional mount tractors, the PREET 955 - 2WD tractor can be used in all types of work, including inter-row tiling.
The road price of the Preet 955 in India is ₹ 4 to 85 ₹ 5.20 lakh. The road price consists of several factors, such as the price in the showroom, the amount of the RTO registration, the amount of road tax, and the amount of insurance. All of these components add up to get the road price for the Preet 955 tractor. Also, these components vary from state to state. The price also changes depending on the variant of the Preet 955 tractor.
...
---
Preet 955 Specifications
ENGINE Specification
Horsepower (HP)
50 HP
Engine Capacity in cc
3066 cc
Engine RPM
2200 RPM
Cylinder
3
Air Filter
Dry type
Cooling Type
Water Cooled
TRANSMISSION Specifications
Clutch
Single Friction Plate
Type of Transmission
Sliding Mesh
Forward Speed
2.67 – 33.89 kmph
Reverse speed
3.74 – 12.27 kmph
No of Forward Gears
8
No of Reverse Gears
2
BRAKES Specifications

More tractors by Preet Tractors

Type of Brake
Dry / Oil Immersed
Turning radius with brake
NA
STEERING Specifications
Type of Steering
Power Steering
Steering Adjustment
NO
PTO POWER Specifications
Type of PTO
6 Spline
PTO RPM
540, Reverse
PTO POWER in HP
43 HP
FUEL TANK Specifications
FUEL TANK Capacity(Liters)
67 liters
DIMENSION AND WEIGHT
Weight
2100 kg
Wheelbase
2085 mm
Overall Length
NA
HYDRAULICS Specifications
Lifting capacity
1800 kg
TYRE SIZE Specifications
Front Tyres
7.5 X 16
Rear Tyres
14.9 X 28
Drive Type
Drive type
2WD
---
This website belongs to farming and farming machinary. Created and Managed by khetiwadi development team. Content owned and updated by khetiwadi.
Copyright © 2020 KHETIWADI. All Rights Reserved.
---