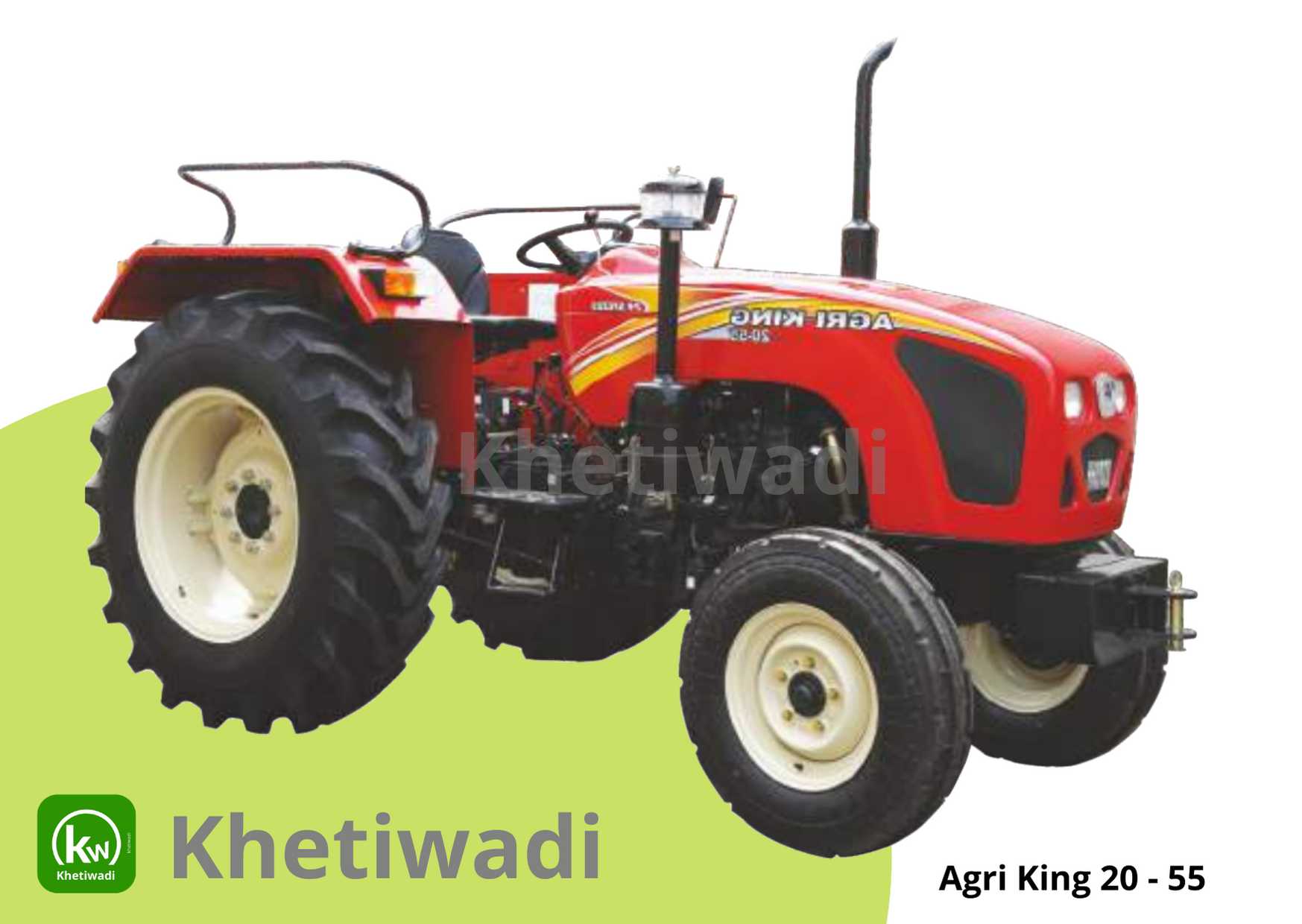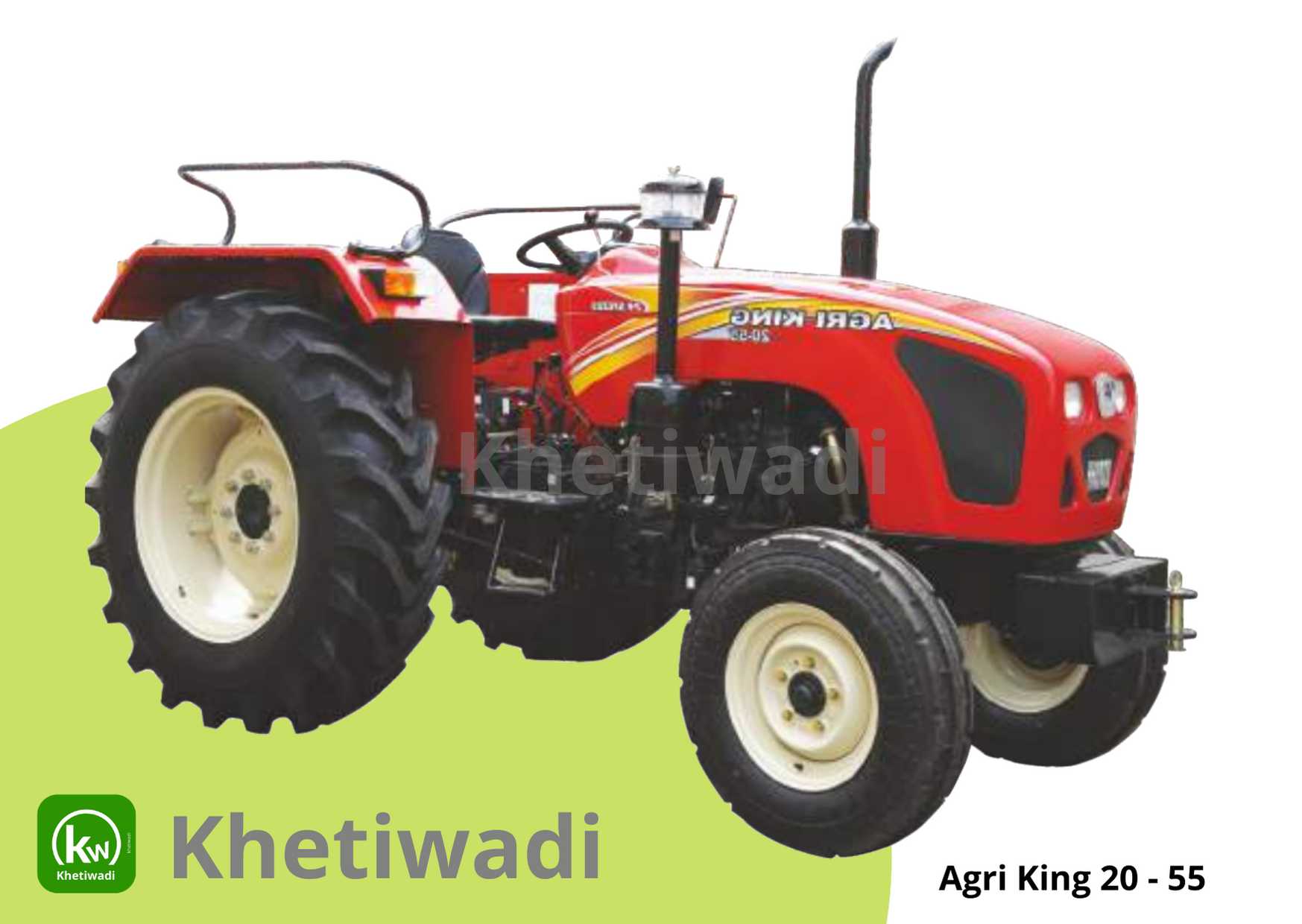 Agri King 20 - 55
Price : ₹ 6,15,000 - ₹ 6,75,000
Engin Power : 49 HP PTO Power : 42 HP Gears : Forward Gears : 16 Reverse Gears : 8 Type of Steering : Power Steering / Mechanical Steering Type of Brakes : Oil Immersed Lifting Capacity : 1800 kg
overview
The Agri King 20-55 is powered by a powerful 3 cylinder, 3120 cc engine and 49 hp with more power, higher efficiency and more comfort. The Agri King 20-55 oil comes with immersed brakes, larger clutch and mechanical and power steering options which makes the Agri King 20-55 tractor very comfortable and smooth for the operator without fatigue. The Agri King 20-55 comes with special features like rear axle reduction, adjustable toe-hook and a fully synchronized shift gearbox. This makes Krishi Raja perfect for jumalists like 20-55 tillage, seed drill, harrow, puddle, plow and more with backup torque in case of partial load conditions.
The on-road price of Agri King 20-55 in India is 5 6.15 to 6.75 Lakh. The street price includes many factors such as ex-showroom price, RTO registration amount, road tax amount and insurance amount. All these components are combined to get the on-road price of the Agri King 20-55 tractor. Furthermore, these...
components vary from state to state. The price also varies depending on the variants of Agri King 20-55tractor.
---
Agri King 20 - 55 Specifications
ENGINE Specification
Horsepower (HP)
49 HP
Engine Capacity in cc
3120 cc
Engine RPM
2200 RPM
Cylinder
3
Air Filter
3 stage oil bath type / Dry type
Cooling Type
Water Cooled
TRANSMISSION Specifications
Clutch
Dual Clutch
Type of Transmission
Synchromesh
Forward Speed
1.93 – 33.7 kmph
Reverse speed
1.8 – 26.9 kmph
No of Forward Gears
16
No of Reverse Gears
8
BRAKES Specifications

More tractors by Agri King Tractors

Type of Brake
Oil Immersed
Turning radius with brake
2950 mm
STEERING Specifications
Type of Steering
Power Steering / Mechanical Steering
Steering Adjustment
NO
PTO POWER Specifications
Type of PTO
6 Spline
PTO RPM
540, 1000
PTO POWER in HP
42 HP
FUEL TANK Specifications
FUEL TANK Capacity(Liters)
60 liters
DIMENSION AND WEIGHT
Weight
2200 kg
Wheelbase
1980 mm
Overall Length
3600 mm
HYDRAULICS Specifications
Lifting capacity
1800 kg
TYRE SIZE Specifications
Front Tyres
7.5 X 16
Rear Tyres
14.9 X 28
Drive Type
Drive type
2WD
WARRANTY
Warranty
2000 Hours / 2 year
---
This website belongs to farming and farming machinary. Created and Managed by khetiwadi development team. Content owned and updated by khetiwadi.
Copyright © 2020 KHETIWADI. All Rights Reserved.
---