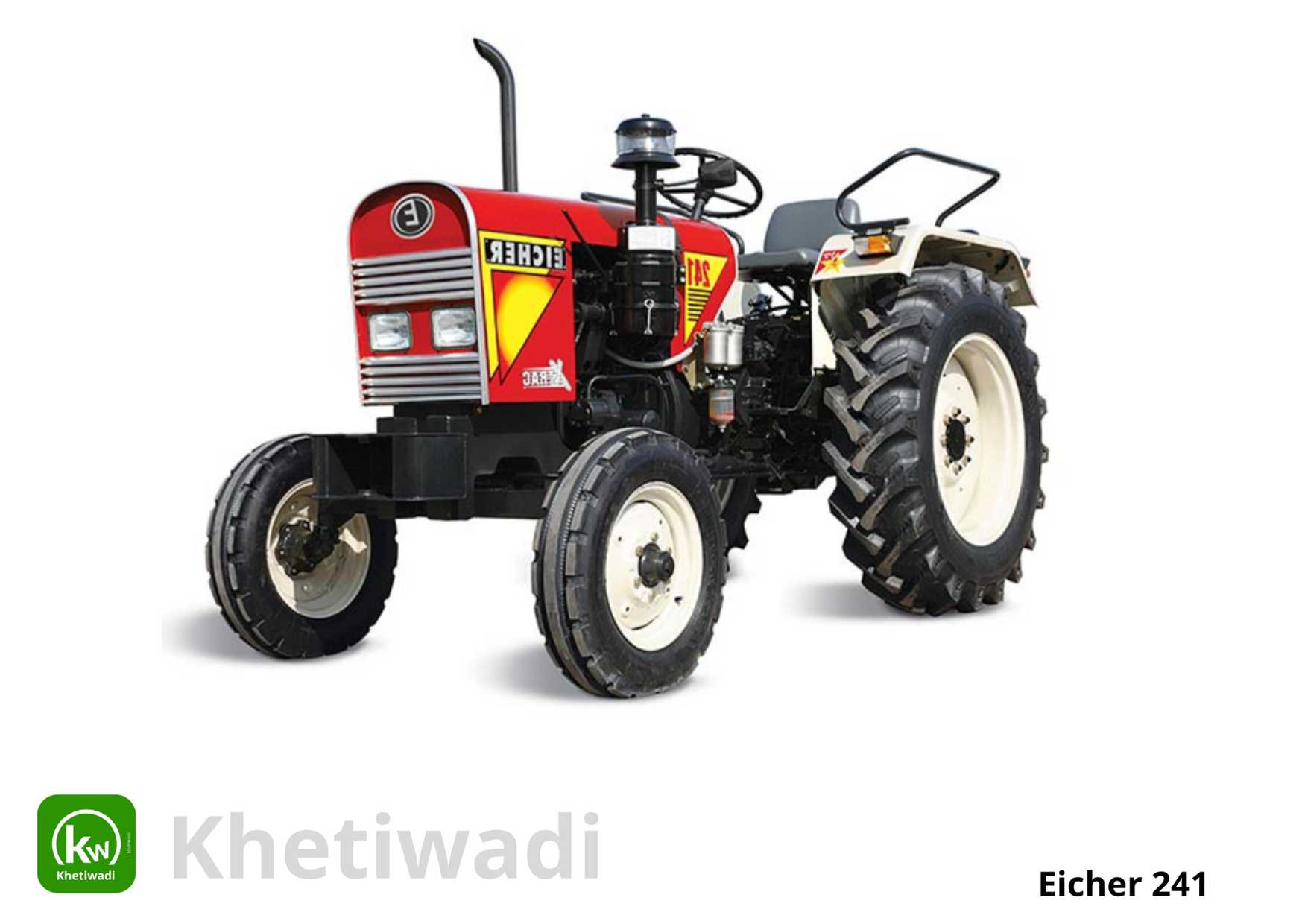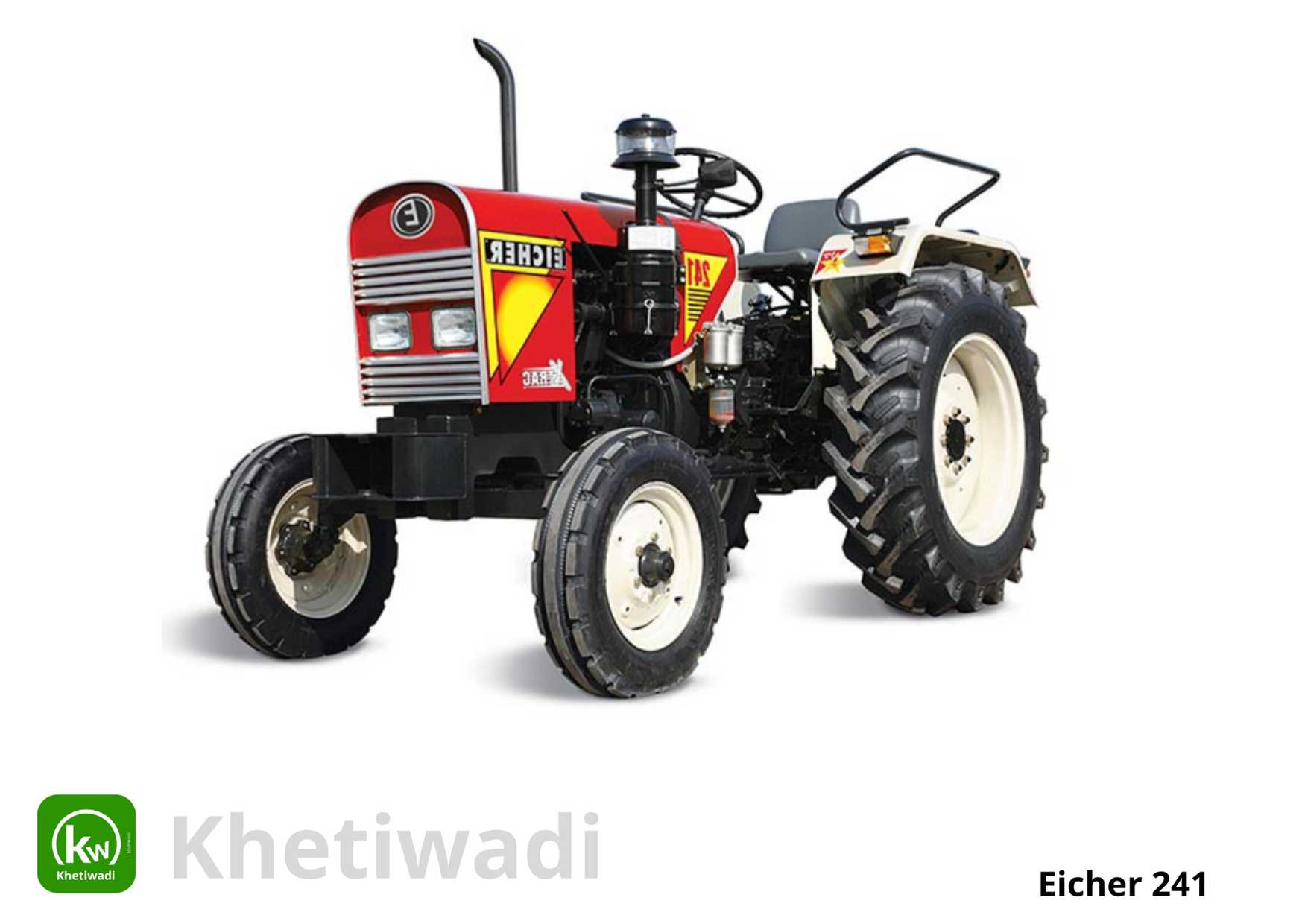 Eicher 241
Price : ₹ 3,37,000 - ₹ 3,55,000
Engin Power : 24 HP PTO Power : 21 HP Gears : Forward Gears : 5 Reverse Gears : 1 Type of Steering : Mechanical Steering Type of Brakes : Disc Brakes Lifting Capacity : 800 kg
The Eicher 241 has 24 hp fitted with a single cylinder, a 1557 cc engine with an engine RPM of 1657 RPM. The Eicher 241 tractor can handle equipment such as rotavators, reverse ploves, cultivators, etc. The Eicher 241 comes with a mechanical steering. The Eicher 241 is equipped with heavy-duty in a lifting capacity of 800 kg. The Eicher 241 has an air-cooled cooling system. The Eicher 241 comes with a single friction plate clutch which is very useful for long life of / clutch in agricultural applications. The Eicher 241 comes with 6 spline type power which is off from 519 with 21 HP power.
The road price of Eicher 241 in India ranges from 37 3.37 to 3. 3.55 lakh. The street price includes many factors such as ex-showroom price, RTO registration amount, road tax amount and insurance amount. All these components have been added to get the on-road price of the Eicher 241 tractor. Furthermore, these components vary from state to state. Price also changes depending on the versi...
on of Eicher 241 tractor.
---
Eicher 241 Specifications
ENGINE Specification
Horsepower (HP)
24 HP
Engine Capacity in cc
1557 cc
Engine RPM
1650 RPM
Cylinder
1
Air Filter
4 Stage Oil bath type
Cooling Type
Air Cooled
TRANSMISSION Specifications
Clutch
Single Friction Plate
Type of Transmission
Sliding Mesh
Forward Speed
3.75 - 25.5 kmph
Reverse speed
NA
No of Forward Gears
5
No of Reverse Gears
1
BRAKES Specifications

More tractors by Eicher Tractors

Type of Brake
Disc Brakes
Turning radius with brake
NA
STEERING Specifications
Type of Steering
Mechanical Steering
Steering Adjustment
NO
PTO POWER Specifications
Type of PTO
6 Spline
PTO RPM
519
PTO POWER in HP
21 HP
FUEL TANK Specifications
FUEL TANK Capacity(Liters)
35 liters
DIMENSION AND WEIGHT
Weight
1685 kg
Wheelbase
1890 mm
Overall Length
na
HYDRAULICS Specifications
Lifting capacity
800 kg
TYRE SIZE Specifications
Front Tyres
6 X 16
Rear Tyres
12.4 X 28
Drive Type
Drive type
2WD
WARRANTY
Warranty
2000 Hours / 2 year
---
This website belongs to farming and farming machinary. Created and Managed by khetiwadi development team. Content owned and updated by khetiwadi.
Copyright © 2020 KHETIWADI. All Rights Reserved.
---