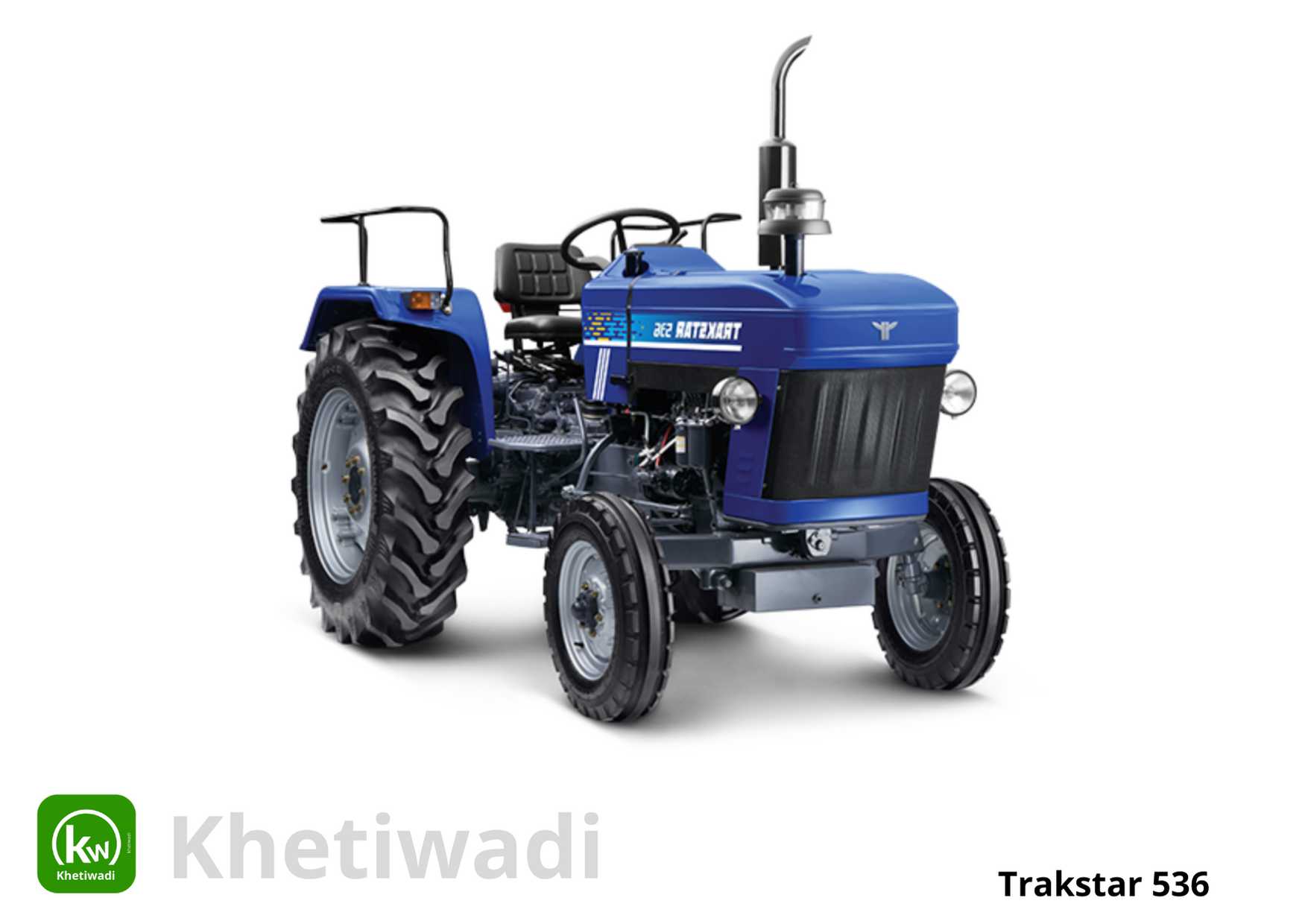 Key Highlights
The Trakstar 536 is equipped with a powerful 3-cylinder engine that produces 36 hp. Its key features are the partial continuous mesh transmission, oil immersed brakes and mechanical steering. The Trakstar 536 is easy to operate and can be used in more than 30 applications, including transportation. It has a strong and robust design to withstand the rigors of agricultural activities. The Trakstar 536 is versatile and durable and is commonly used on crops such as rice, wheat, sugar cane, and others crops. It has a lifting capacity of 1400 kg which is suitable for various types of equipment such as cultivators, rototillers, plows, planters and others.
Number
It has a displacement of 2,235 cc that produces enough torque for most applications.
The Trakstar 536 comes with 8 forward gears and 2 reverse gears that provide variable speed options.
Trakstar 536 Specifications
| ENGINE | |
| --- | --- |
| Horsepower (HP) | 36 HP |
| Engine Capacity in cc | 2235 cc |
| Engine RPM | 2100 RPM |
| Cylinder | 3 |
| Air Filter | 3 Stage oil bath type |
| Cooling Type | Water Cooled |
| TRANSMISSION | |
| --- | --- |
| Clutch | Single Friction Plate |
| Type of Transmission | Partial Constant Mesh |
| Forward Speed | NA |
| Reverse speed | NA |
| No of Forward Gears | 8 |
| No of Reverse Gears | 2 |
| BRAKES | |
| --- | --- |
| Type of Brake | Oil Immersed Brakes |
| Turning radius with brake | NA |
| STEERING | |
| --- | --- |
| Type of Steering | Mechanical Steering |
| Steering Adjustment | NO |
More tractors by Trakstar Tractors
| PTO Power | |
| --- | --- |
| Type of PTO | 6 Spline |
| PTO RPM | 540 |
| PTO POWER in HP | 31 HP |
| FUEL TANK | |
| --- | --- |
| FUEL TANK Capacity(Liters) | 63 liters |
| DIMENSION AND WEIGHT | |
| --- | --- |
| Weight | 1805 kg |
| Wheelbase | 1880 mm |
| Overall Length | 3455 mm |
| HYDRAULICS | |
| --- | --- |
| Lifting capacity | 1400 kg |
| TYRE SIZE | |
| --- | --- |
| Front Tyres | 6 X 16 |
| Rear Tyress | 12.4 X 28 / 13.6 X 28 |
| Drive Type | |
| --- | --- |
| Drive type | 2WD |