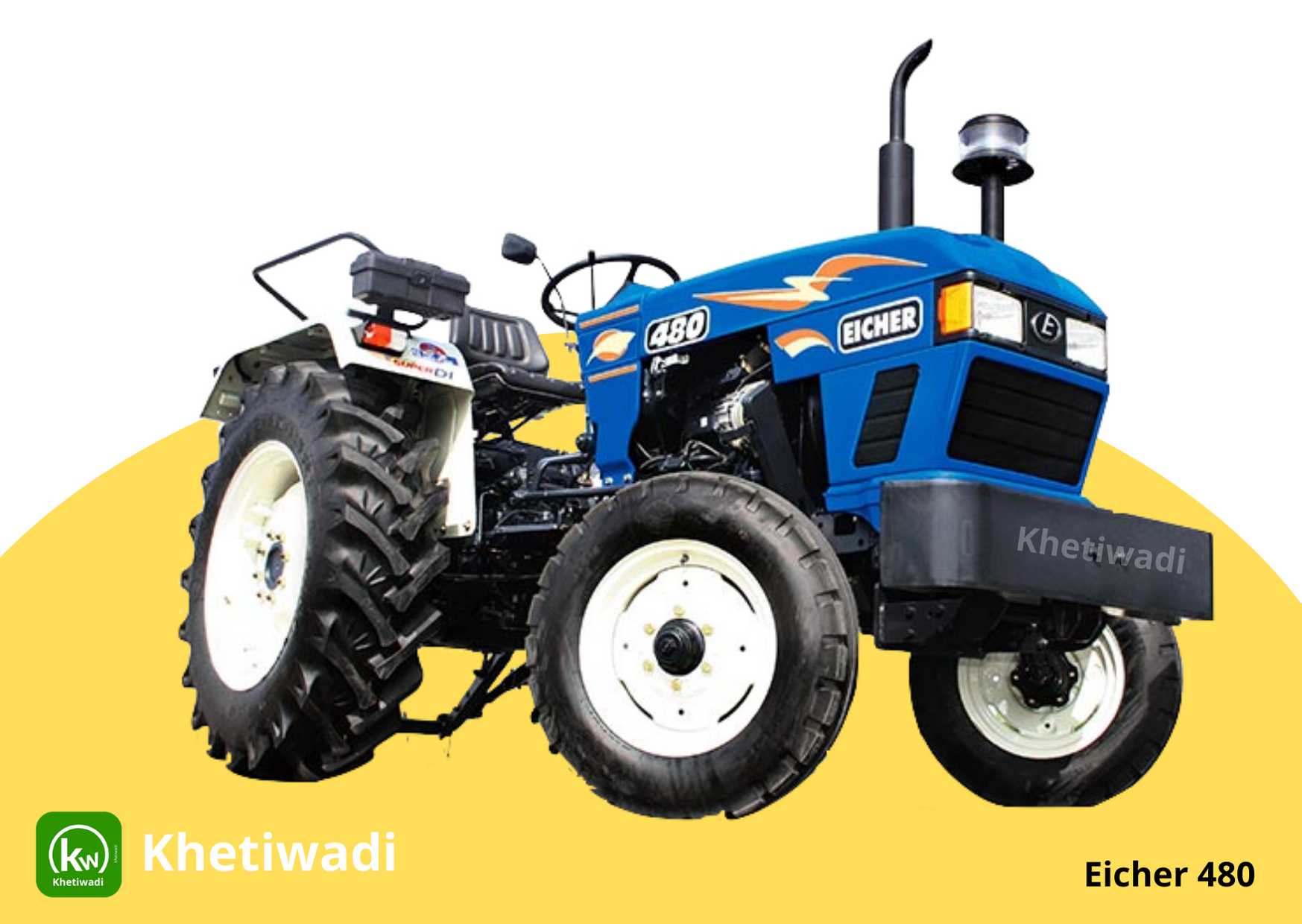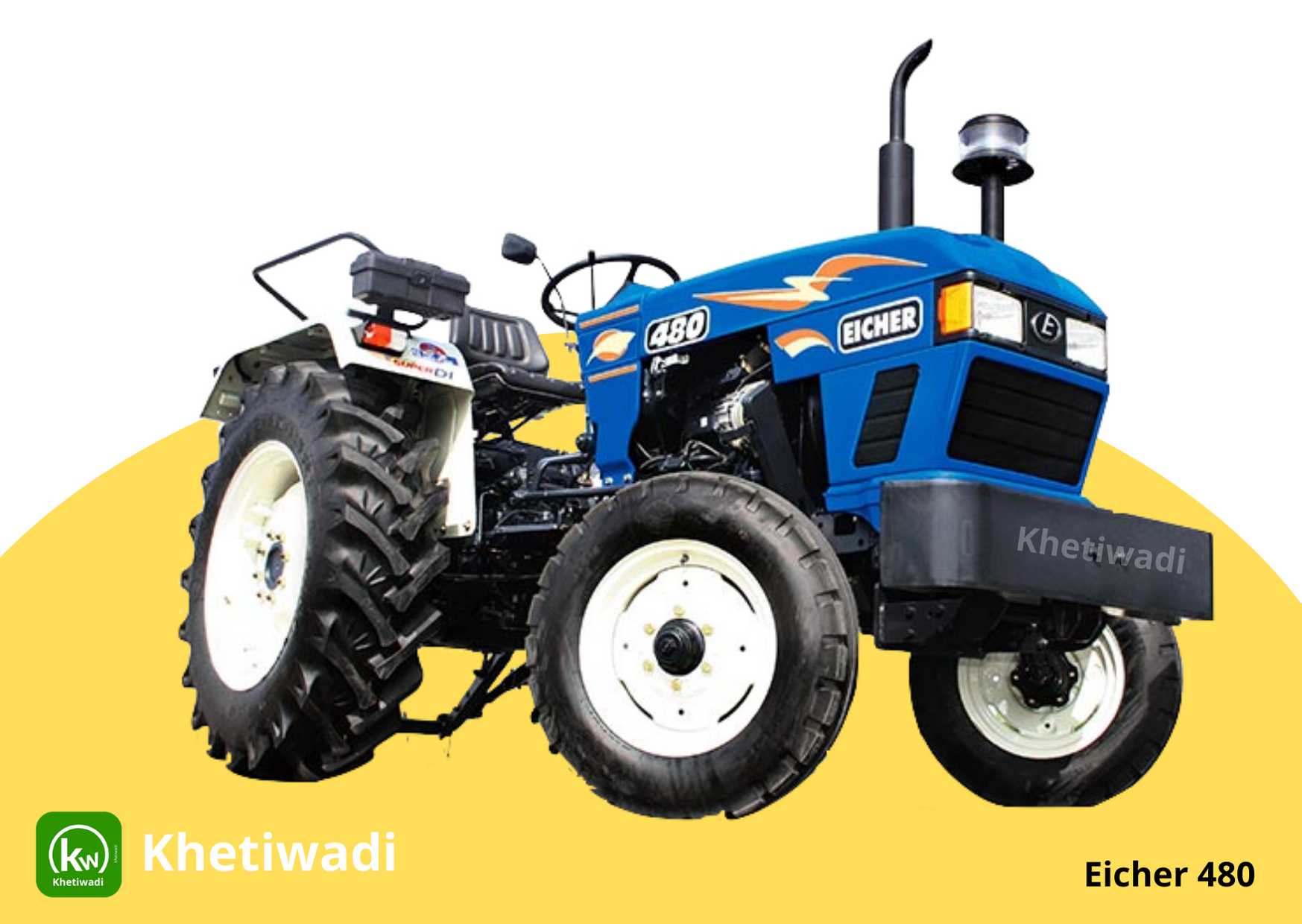 Eicher 480
Price : ₹ 6,05,000 - ₹ 6,45,000
Engin Power : 42 HP PTO Power : 36 HP Gears : Forward Gears : 8 Reverse Gears : 2 Type of Steering : Mechanical Steering Type of Brakes : Dry Disc / Oil Immersed Lifting Capacity : 1300 kg
The Eicher 480 is comes with advanced features such as oil-immersed or dry disc brake options, a larger radiator, 3 cylinder powerful engin, 2500 cc engine that produces around 42 HP power with a rated RPM of 2150 RPM. The Eicher 480 delivers never before exceptional performance, versatility and high reliability in any operation that makes the Eicher 480 tractor ideal across India. Unique features include engine with torque backup of 15 to 20%. Eicher 480 is available in 2WD. The Eicher 480 is suitable for more than 30 applications inducing demanding applications of TMCH, loaders, and dozers, etc. Eicher 480 is also available with a combination of continuous content mesh and sliding mesh gearbox which makes it very easy to perform agricultural tasks and commercial. Application. The mechanical steering, deluxe seat, toolbox with bottle holder and class display unit add a great operator comfort to the Eicher 480. Eicher 480 forward speed reaches 32.3 kmph Eicher 480 gives 540 PTO spee...
d which is useful for applications like rotavator and many and Eicher 480 PTO provides power of 36 HP. The Eicher 480 was equipped with a 50-liter diesel tank. The Eicher 480 tractor has a lifting capacity of 1300 kg. The Eicher 480 weighs 2000 kg and has a wheelbase of 1910 mm. Eicher 480 has 6 X 16 front tires and 13.6 X 28 / 14.9 X 28 rear tires.
---
Eicher 480 Specifications
ENGINE Specification
Horsepower (HP)
42 HP
Engine Capacity in cc
2500 cc
Engine RPM
2150 RPM
Cylinder
3
Air Filter
4 Stage Oil bath type
Cooling Type
Water Cooled
TRANSMISSION Specifications
Clutch
Single / Dual
Type of Transmission
Combination of Constant and Sliding Mesh
Forward Speed
32.3 kmph
Reverse speed
NA
No of Forward Gears
8
No of Reverse Gears
2
BRAKES Specifications

More tractors by Eicher Tractors

Type of Brake
Dry Disc / Oil Immersed
Turning radius with brake
NA
STEERING Specifications
Type of Steering
Mechanical Steering
Steering Adjustment
NO
PTO POWER Specifications
Type of PTO
6 Spline
PTO RPM
540
PTO POWER in HP
36 HP
FUEL TANK Specifications
FUEL TANK Capacity(Liters)
50 liters
DIMENSION AND WEIGHT
Weight
2000 kg
Wheelbase
1910 mm
Overall Length
NA
HYDRAULICS Specifications
Lifting capacity
1300 kg
TYRE SIZE Specifications
Front Tyres
6 X 16
Rear Tyres
13.6 X 28 / 14.9 X 28
Drive Type
Drive type
2WD
WARRANTY
Warranty
2000 Hours / 2 year
---
This website belongs to farming and farming machinary. Created and Managed by khetiwadi development team. Content owned and updated by khetiwadi.
Copyright © 2020 KHETIWADI. All Rights Reserved.
---