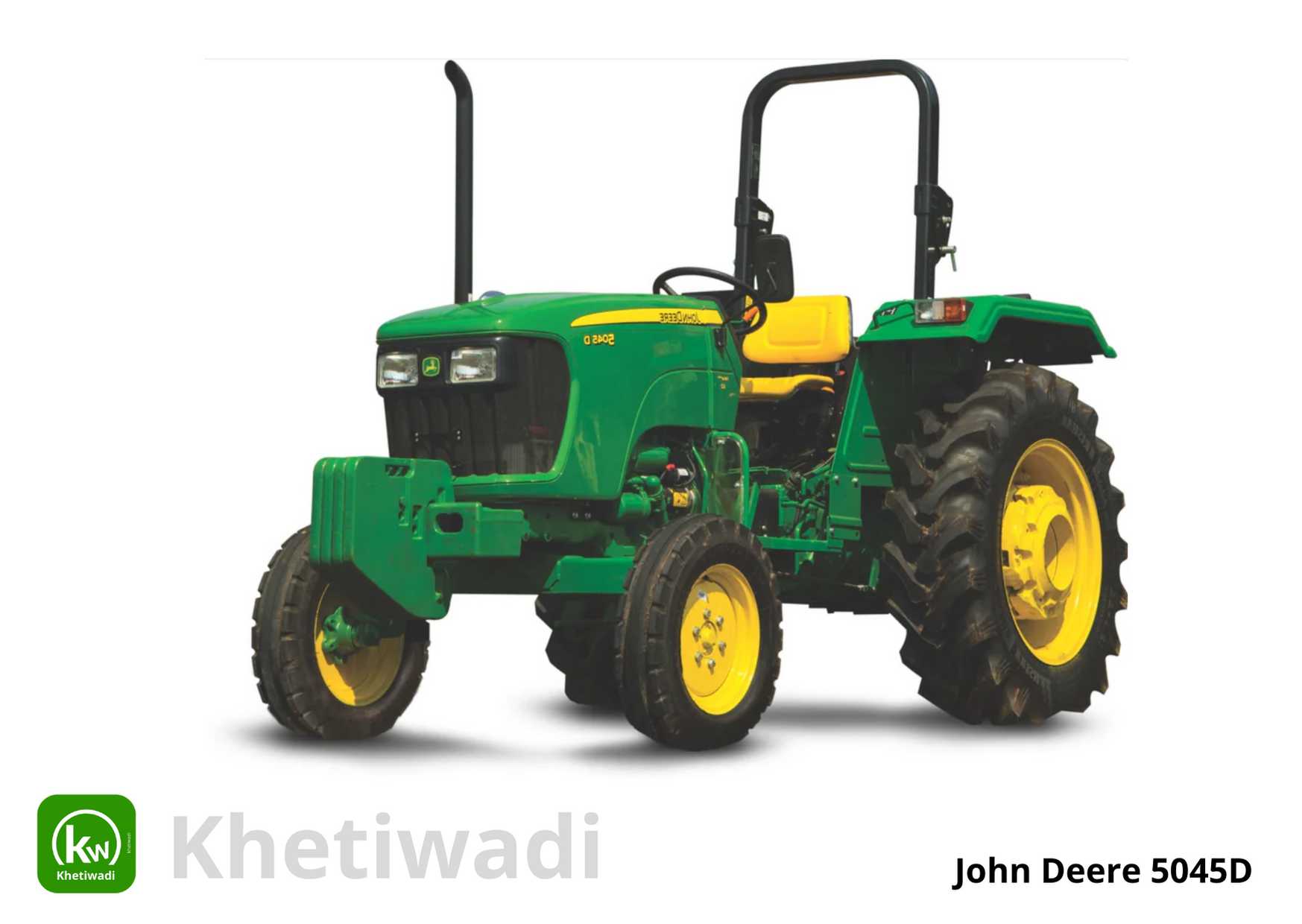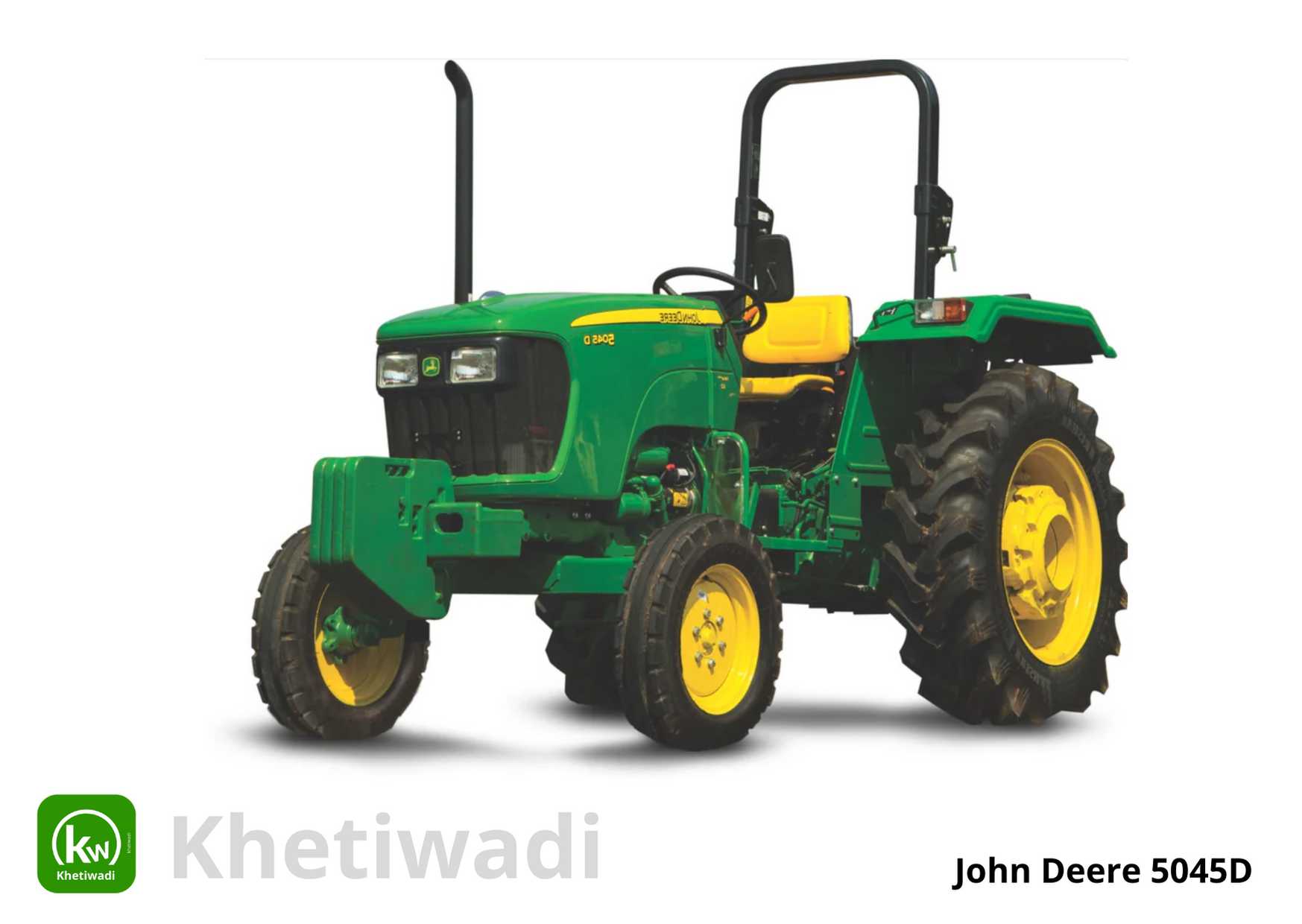 John Deere 5045D
Price : ₹ 7,52,000 - ₹ 8,02,000
Engin Power : 45 HP PTO Power : 38 HP Gears : Forward Gears : 8 Reverse Gears : 4 Type of Steering : Power Steering Type of Brakes : Oil Immersed Lifting Capacity : 1600 kg
The John Deere 5045D is a power-packed agricultural tractor with high back-up torque and quick productivity for all agricultural applications.
4WD with HLD tires for wet land applications
Selective control valve for hydraulically operated equipment provides ease of operation
Comfortable seat with side shift gear lever for smooth operation
John Deere Tractor prices range from Rs.4.80 Lakh to Rs.29 Lakh. Learn more with your nearest dealer now!
High engine back torque
Frequent gear changes are not required during variable field conditions
Tractor ability to run at low possible erpm with higher gear selection
Improves operators comfort levels and increases their productivity, which enables them to work longer hours
High lifting capacity
High lifting capacity of 1600 kg
The feature works with all types of devices
Ensures efficiency in all field applications
...
---
John Deere 5045D Specifications
ENGINE Specification
Horsepower (HP)
45 HP
Engine Capacity in cc
2900 cc
Engine RPM
2100 RPM
Cylinder
3
Air Filter
Dry type, Dual element
Cooling Type
Coolant Cooled
TRANSMISSION Specifications
Clutch
Dual
Type of Transmission
Collarshift
Forward Speed
2.83 – 30.92 kmph
Reverse speed
3.71 – 13.43 kmph
No of Forward Gears
8
No of Reverse Gears
4
BRAKES Specifications

More tractors by John Deere

Type of Brake
Oil Immersed
Turning radius with brake
NA
STEERING Specifications
Type of Steering
Power Steering
Steering Adjustment
NO
PTO POWER Specifications
Type of PTO
6 Spline
PTO RPM
540, 540E
PTO POWER in HP
38 HP
FUEL TANK Specifications
FUEL TANK Capacity(Liters)
60 liters
DIMENSION AND WEIGHT
Weight
2010 kg
Wheelbase
1950 mm
Overall Length
3370 mm
HYDRAULICS Specifications
Lifting capacity
1600 kg
TYRE SIZE Specifications
Front Tyres
8 X 18
Rear Tyres
13.6 X 28 / 14.9 X 28
Drive Type
Drive type
2WD / 4WD
WARRANTY
Warranty
5000 Hours / 5 year
---
This website belongs to farming and farming machinary. Created and Managed by khetiwadi development team. Content owned and updated by khetiwadi.
Copyright © 2020 KHETIWADI. All Rights Reserved.
---