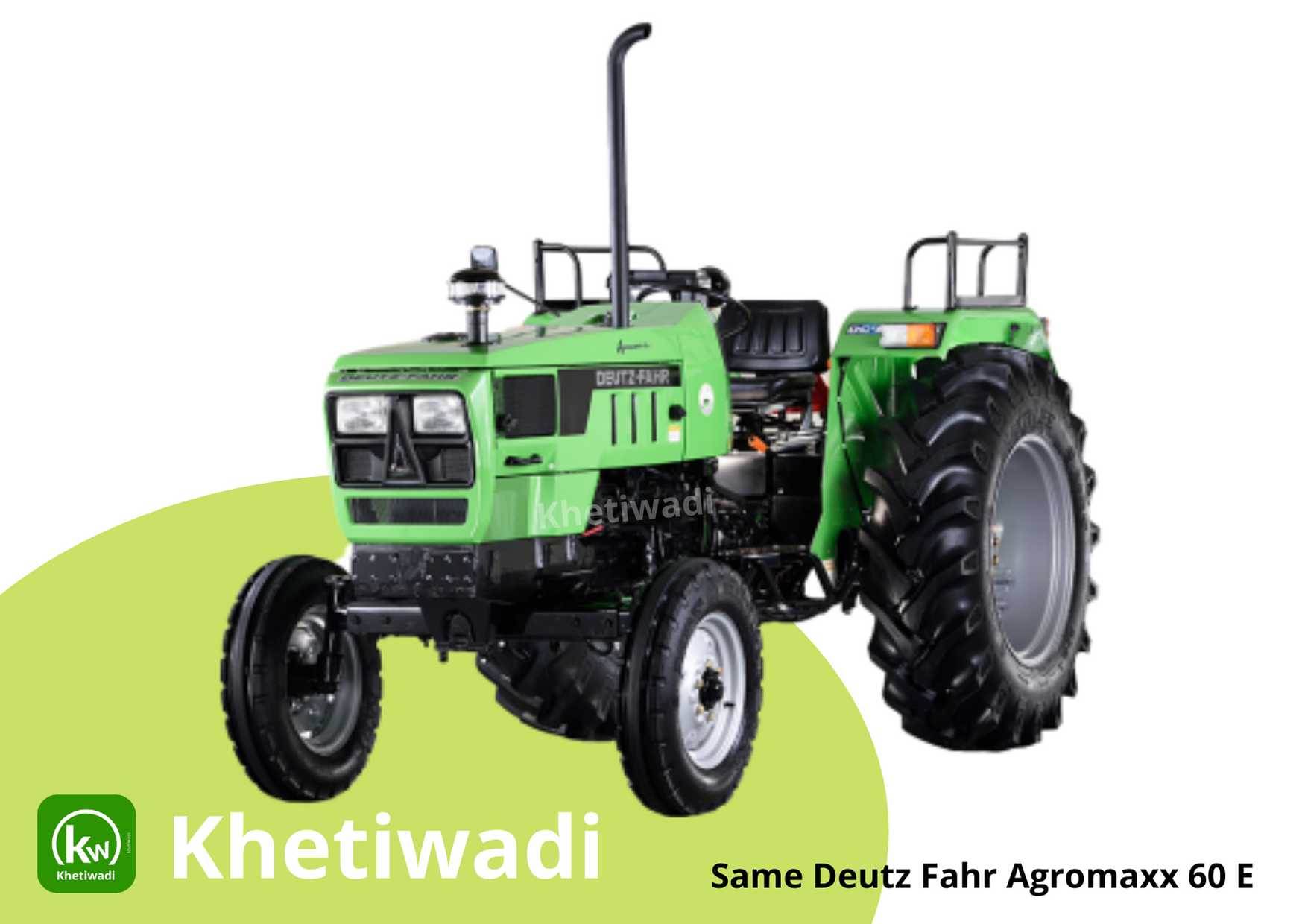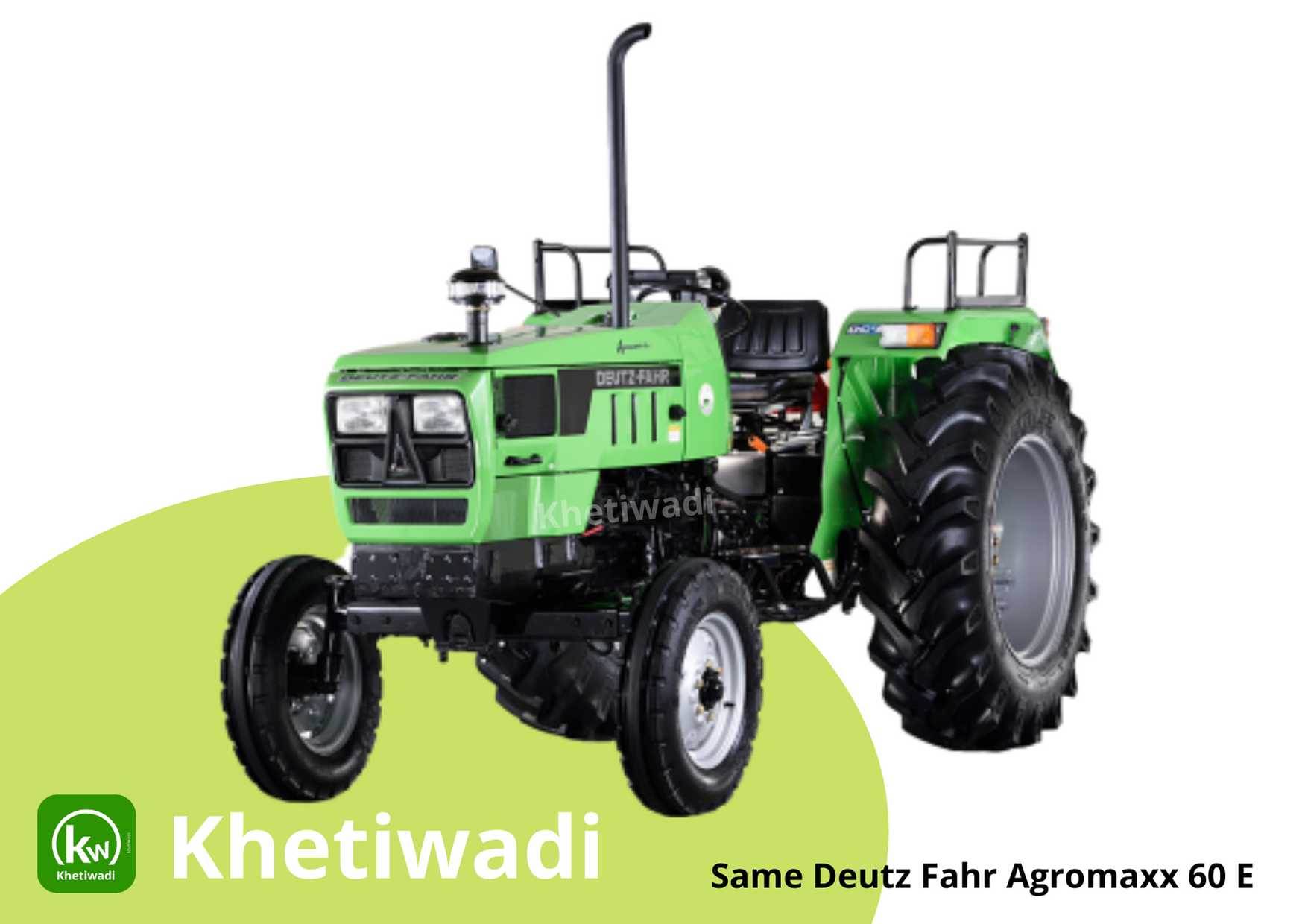 Same Deutz Fahr Agromaxx 60 E
Price : ₹ 7,50,000 - ₹ 8,50,000
Engin Power : 60 HP PTO Power : 51 HP Gears : Forward Gears : 8 Reverse Gears : 2 Type of Steering : Power / Mechanical Steering Type of Brakes : Oil Immersed Lifting Capacity : 2100 kg
The Agromax 55-60 series transmission is extremely strong and exceptionally efficient, ideally with gear ratios. The standard configuration consists of a synchronous four-speed gearbox with three forward and reverse ranges. With the ratio wisely covering an ideal range, the transmission gives these tractors the ability to operate at a top speed of 30 km / h with a minimum speed of just 810 m / h; With four gears and three ranges, the Agromax 55-60 tractor offers a total of twelve forward and three reverse speeds. With highly effective transmission, an ideal weight distribution and 100% lockable spacing, Agromax 55-60 tractors are ideal for a wide variety of applications, ranging from high-making to secondary tillage and general soil preparation jobs. . With a maximum steering angle of 70 degrees on two-wheel drive versions combined with a front axle with a particularly compact wheelbase of only 2450 mm, or 55 degrees on four-wheel drive versions (with selectable dual traction), the ...
Agromax 55-60 tractors are exceptionally unbearable.
---
Same Deutz Fahr Agromaxx 60 E Specifications
ENGINE Specification
Horsepower (HP)
60 HP
Engine Capacity in cc
3000 cc
Engine RPM
2200 RPM
Cylinder
3
Air Filter
Dry type
Cooling Type
Water Cooled
TRANSMISSION Specifications
Clutch
Single / Dual
Type of Transmission
Fully Constant mesh / Synchromesh
Forward Speed
30 kmph
Reverse speed
NA
No of Forward Gears
8
No of Reverse Gears
2
BRAKES Specifications

More tractors by Same Deutz Fahr

Type of Brake
Oil Immersed
Turning radius with brake
NA
STEERING Specifications
Type of Steering
Power / Mechanical Steering
Steering Adjustment
NO
PTO POWER Specifications
Type of PTO
6 Spline
PTO RPM
540 / 750
PTO POWER in HP
51 HP
FUEL TANK Specifications
FUEL TANK Capacity(Liters)
60 liters
DIMENSION AND WEIGHT
Weight
NA
Wheelbase
2450 mm
Overall Length
NA
HYDRAULICS Specifications
Lifting capacity
2100 kg
TYRE SIZE Specifications
Front Tyres
7.5 X 16 / 12.4 X 20
Rear Tyres
16.9 X 28
Drive Type
Drive type
2WD / 4WD
WARRANTY
Warranty
2000 Hours / 2 year
---
This website belongs to farming and farming machinary. Created and Managed by khetiwadi development team. Content owned and updated by khetiwadi.
Copyright © 2020 KHETIWADI. All Rights Reserved.
---