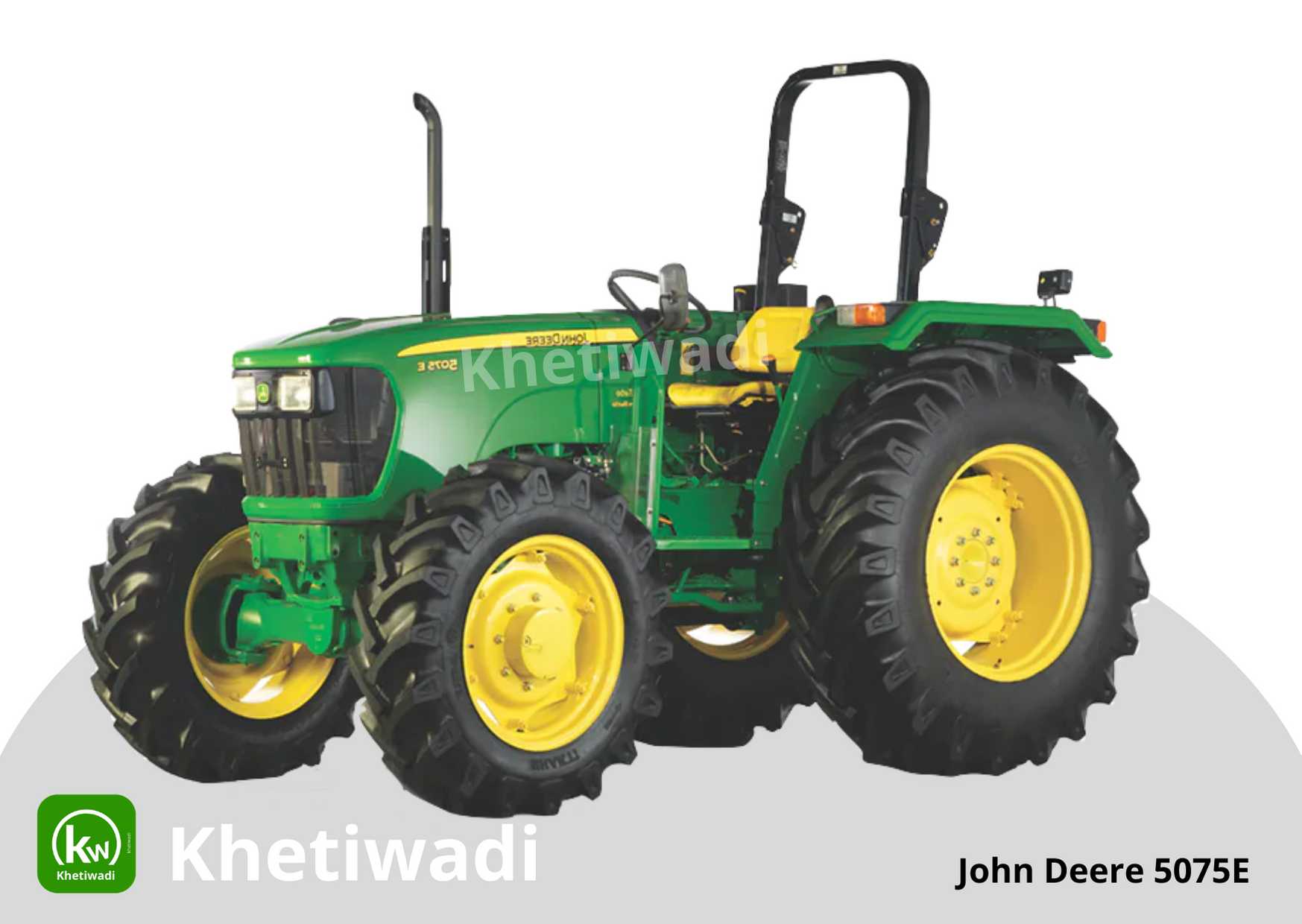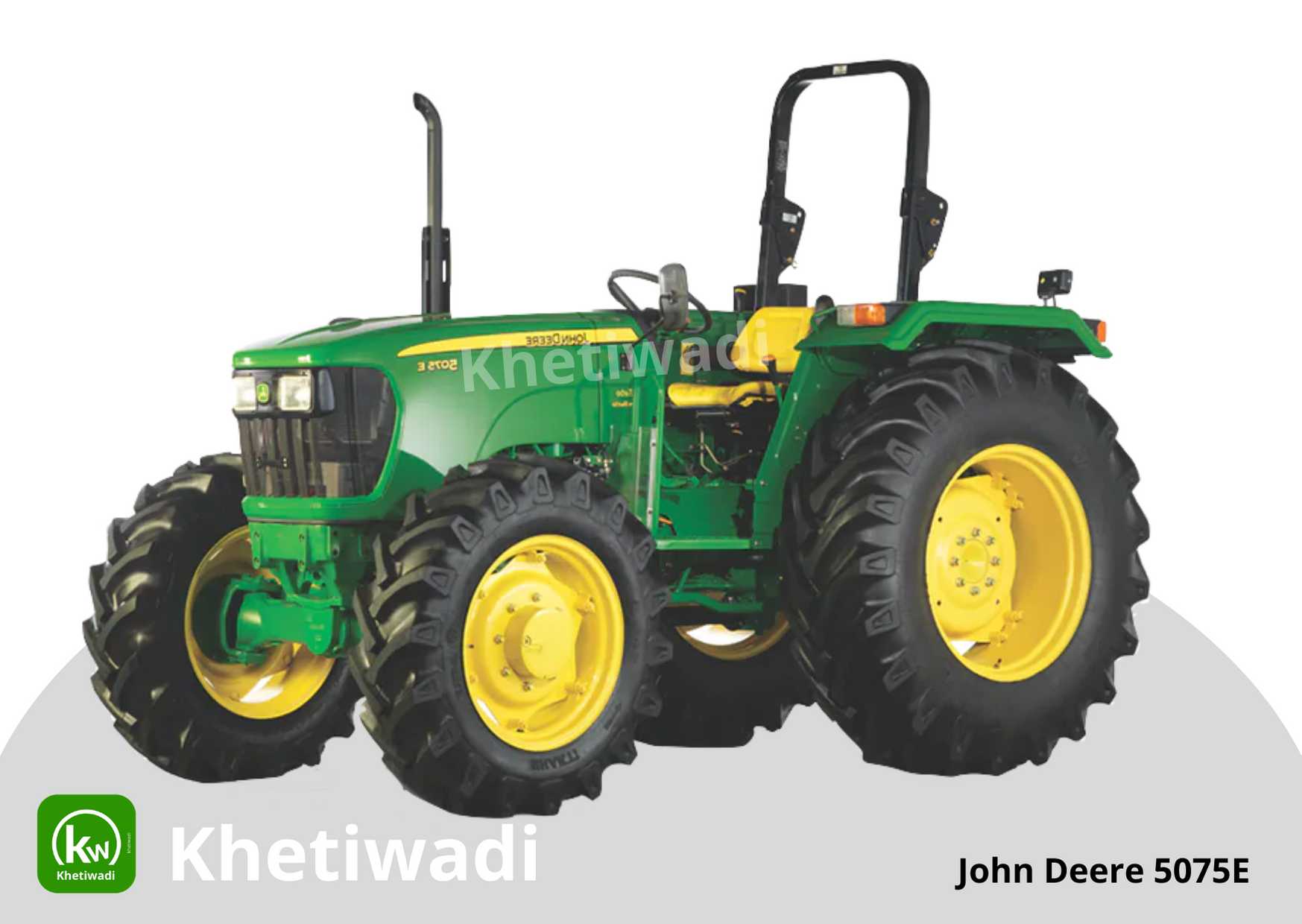 John Deere 5075E
Price : ₹ 12,38,000 - ₹ 13,40,000
Engin Power : 75 HP PTO Power : 64 HP Gears : Forward Gears : 9 Reverse Gears : 3 Type of Steering : Power Steering Type of Brakes : Oil Immersed Lifting Capacity : 2000 kg
overview
जॉन डीरे 5075 एक शक्तिशाली 75 एचपी ट्रैक्टर है जो उन्नत तकनीक से लैस है। इसका शक्तिशाली टर्बोचार्ज्ड इंजन उच्च लिफ्ट क्षमता प्रदान करता है और बेजोड़ शक्ति सभी भारी शुल्क वाले अनुप्रयोगों के लिए उपयुक्त है।

भारी अनुप्रयोगों के लिए उच्च बैक अप टोक़
अनायास ड्राइविंग के लिए पावर स्टीयरिंग
स्व-समायोजन, स्व-समकारी तेल उच्च सुरक्षा और कम रखरखाव के लिए डिस्क ब्रेक विसर्जित किया
जॉन डीरे ट्रैक्टर की कीमत Rs.4.80 लाख से लेकर Rs.29 लाख तक है। अपने नजदीकी डीलर के साथ अधिक संपर्क जानने के लिए अब!
The John Deere 5075 is a powerful 75 hp tractor equipped with advanced technology. Its powerful turbocharged engine provides high lift capacity and unmatched power is suitable for all heavy-duty applications.
Look for:
High back-up torque for heavy duty applications
Power Steering for Spontaneous Driving
Self-adjusting, self-equalizing oil immersed disc brakes for high saf...
ety and low maintenance
John Deere Tractor prices range from Rs.4.80 Lakh to Rs.29 Lakh. Learn more with your nearest dealer now!
---
John Deere 5075E Specifications
ENGINE Specification
Horsepower (HP)
75 HP
Engine Capacity in cc
2900 cc
Engine RPM
2400 RPM
Cylinder
3
Air Filter
Dry type, Dual element
Cooling Type
Liquid Cooled
TRANSMISSION Specifications
Clutch
Dual
Type of Transmission
Synchromesh
Forward Speed
2.2 – 31.3 kmph
Reverse speed
3.6 – 24.2 kmph
No of Forward Gears
9
No of Reverse Gears
3
BRAKES Specifications

More tractors by John Deere

Type of Brake
Oil Immersed
Turning radius with brake
3604 mm
STEERING Specifications
Type of Steering
Power Steering
Steering Adjustment
NO
PTO POWER Specifications
Type of PTO
6 Spline
PTO RPM
540, 540E
PTO POWER in HP
64 HP
FUEL TANK Specifications
FUEL TANK Capacity(Liters)
68 liters
DIMENSION AND WEIGHT
Weight
2640 kg
Wheelbase
2050 mm
Overall Length
3625 mm
HYDRAULICS Specifications
Lifting capacity
2000 kg
TYRE SIZE Specifications
Front Tyres
12.4 X 24 / 11.2 X 24
Rear Tyres
18.4 X 30 / 16.9 X 30
Drive Type
Drive type
4WD
WARRANTY
Warranty
5000 Hours / 5 year
---
This website belongs to farming and farming machinary. Created and Managed by khetiwadi development team. Content owned and updated by khetiwadi.
Copyright © 2020 KHETIWADI. All Rights Reserved.
---